Angela Chen MD, Shanlee Stevens MD, Adam Kessler, Justin Karlin MD
1. Dermatochalasis
Excess, overhanging eyelid skin, commonly due to aging, that may present with decreased peripheral vision ('lateral hooding') and/or dermatitis due to moisture within skin folds ('wicking phenomenon').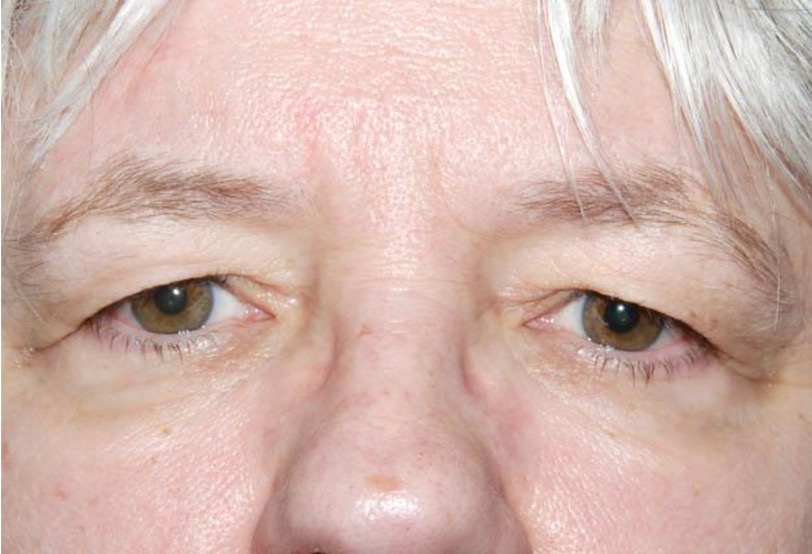 Dermatochalasis with lateral hooding (photo: www.eyewiki.aao.org)
Specific Tests: MRD1, PFH, LF; ptosis visual field (VF); external photos
Management: Upper blepharoplasty
2. Ptosis
Drooping eyelid (MRD1 < 2.5mm) that, in severe cases, may obstruct the visual axis. In children, ptosis may result in deprivation amblyopia or anisometropic/refractive amblyopia (more common), as pressure of the lid on the softer pediatric globe causes globe distortion and astigmatism. Etiology: aponeurotic (most common), myasthenia gravis, CN III palsy, Horner's syndrome, trauma, mass lesion, congenital

Bilateral ptosis, left>right (photo: www.eyewiki.aao.org)
Specific Tests:
For quantification

: MRD1, PFH, LF, ptosis VF, external photos

Phenylephrine 2.5% in the inferior fornix of the more ptotic eye → positive test if MRD1 increases >1.5mm in 3-5 minutes

Note the position of the contralateral (less ptotic) upper eyelid for "Hering's" ptosis

A single CN III subnucleus controls both levator muscles; when the more ptotic lid is elevated manually, surgically or pharmacologically, the less ptotic lid may fall

For etiology

:

levator function, motility, pupils, lid droop with upgaze/ice pack test (myasthenia gravis), jaw-winking (retraction of lid when mouth opens)

Ptosis + asymmetric pupils → Horner's, CN III palsy

Ptosis + diplopia → CN III palsy, myasthenia gravis

Other:

Evaluate Bell's phenomenon, facial sensation, and ocular surface to assess risk of post-surgical keratopathy
Management:
Medical

Topical apraclonidine or naphazoline for temporary relief of ptosis

Topical oxymetazoline hydrochloride 0.1% (Upneeq) now FDA approved

Surgical

Minimal ptosis 1-2mm, LF >10mm → Levator advancement or Muller's muscle procedure

Min-mod ptosis 1-4mm, LF 5-10mm → Levator advancement

Severe ptosis >4mm, LF <5mm → Frontalis sling
3. Ectropion/Entropion
Outward/inward turning of the eyelid margin
Specific Tests: MRD2; inferior scleral show; lid laxity; external photos
ECtropion

Involutional upper eyelid ectropion (photo: www.eyewiki.aao.org)
Type
Features
Management

Involutional

(age-related)

Horizontal lid laxity

: ability to pull the lid ≥ 6mm from globe

Snap back test: The time it takes for the lower lid to return to normal position after being distracted manually – this is a qualitative test

Lateral tarsal strip or other horizontal lid tightening procedures

Cicatricial

Forced upward traction on the lid demonstrates resistance to returning the eyelid margin to globe apposition

Excise scar tissue if mild ± vertical skin lengthening (i.e. Z-plasty).

Flap/graft ± horizontal lid tightening ± Frost style tarsorrhaphy ± midface lift

Paralytic

From CN VII palsy, associated with brow ptosis.

Temporary

: surface lubrication, botulinum toxin to levator muscle for temporary ptosis, temporary tarsorrhaphy

Permanent: Horizontal lid tightening, eyelid sling procedure

Mechanical

Tumor near the lid margin drawing the eyelid inferiorly from the globe.

Remove mass ± horizontal lid tightening
ENtropion

Lower eyelid entropion (photo: www.merckmanuals.com)
Type
Features
Management

Involutional

(age-related)

Horizontal lid laxity

: ability to pull the lid ≥ 6mm from globe

Vertical lid instability: decreased lower lid excursion in downgaze

Orbital septum laxity: orbital fat prolapse into lower lid

May be better elicited when patient is supine

Medical

: Botulinum toxin to orbicularis for mild cases

Surgical: everting sutures, horizontal lid tightening, reinsertion of lower retractors

Spastic

Forcefully closing the eyelids will elicit overriding of the lid margin by the pretarsal orbicularis

Medical

: botulinum toxin

Surgical: everting sutures, horizontal lid tightening

Cicatricial

Tarsal fracture (tarsotomy), grafts
4. Epiphora (Tearing)
Due to either excess production or reduced outflow
Specific Tests: Probing and irrigation, fluorescein disappearance test (prolonged dye in the conjunctival fornix indicates inadequate lacrimal drainage), Schirmer's test
| | | |
| --- | --- | --- |
| Etiology | Features/etiology | Management |
| Dry Eye Syndrome | Low tear lake, punctate epithelial staining, blepharitis | Lubricants, warm compresses, night time ultrasonic humidifier |
| Punctal stenosis | Narrowing of punctum or overlying conjunctival membrane. Etio: topical medications, allergic conjunctivitis, blepharitis, HSV/HZV, radiation, cicatricial disease | Dilation, punctoplasty |
| Canalicular obstruction | Etio: congenital, trauma, HSV, pharmacologic (taxol and glaucoma meds), radiation, chronic dacryocystitis | Silicone stent for partial obstruction. Canalicular trephination and stent for total obstruction. If severe, may require conjunctivodacryocystorhinostomy (cDCR) |
| Nasolacrimal duct obstruction | Can be idiopathic acquired, congenital, traumatic, granulomatous, neoplastic | Most congenital cases resolve before 1-year-old. Treat with lacrimal sac massage, then consider stenting if tearing persists. In acquired cases, consider DCR. |
5. Facial fracture/trauma
Specific tests: Bony rim palpation, facial sensation (V1-V3), orbicularis strength (VII), extraocular motility, pupils, forced ductions, bruit over closed lid
Imaging: Non-contrast CT. MRI is contraindicated if a ferromagnetic foreign body is suspected. Take care when performing B scan ultrasound to detect intraocular foreign bodies or retinal detachment, as the application of pressure to the globe may worsen concomitant globe rupture and/or suprachoroidal hemorrhage.
Management: Head elevation, ice packs, nasal decongestants. Instruct the patient to sneeze with the mouth open and to avoid nose blowing, as increased pressure in the nasal cavity can force air and sinus contents subcutaneously and into the orbit.
Muscle entrapment, also known as a trapdoor fracture or greenstick fracture, occurs more commonly in children. This may induce bradycardia (oculocardiac reflex). Emergent orbitotomy is indicated to release the entrapped muscle.
Occasionally, autologous ± alloplastic grafts may be used to reconstruct orbital walls.