Jordan Mandell, B.S., Benjamin Lin, M.D., Ann Quan, M.D.
When evaluating a patient who has been diagnosed with glaucoma, it's important to perform a thorough evaluation of the optic nerve in order to monitor for progression of the disease. Evaluating for glaucoma starts by evaluating the cup to disk (C/D) ratio. However, this single measurement can be misleading if it's not considered in relation to other features such as overall disc size, location of disc thinning, changes in the vasculature, color changes, peripapillary atrophy, and asymmetry between eyes.
Optic disc thinning and cupping
Optic disc thinning refers to examining the neuroretinal rim (NRR) and observing abnormal measures of the inferior, superior, nasal and temporal rims.2 In order to evaluate the NRR, the "ISNT" rule can be helpful for remembering the order of thickest to thinnest rims in a healthy disc:
I: Inferior rim, thickest
S: Superior rim
N: Nasal rim
T: Temporal rim, thinnest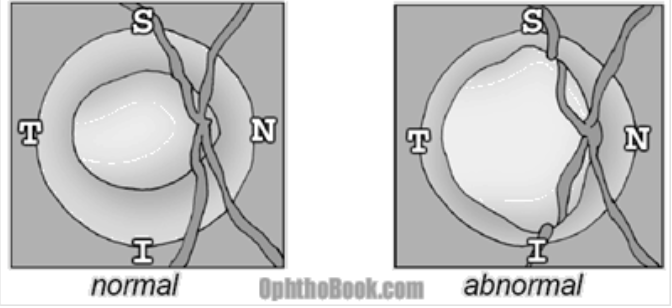 Violations of the ISNT rule should raise suspicion for glaucoma. In glaucoma, the inferior and superior rims are affected first.3 As the rims become thinner, you will see cupping of the disc – an increased cup to disc (C/D) ratio.
There is not a specific C/D ratio that is diagnostic of glaucoma. However, a general rule of thumb is that ~0.6 or greater is suspicious. Only about 5% of individuals without glaucoma have a C/D ratio of >0.6. You also need to consider this in context of the overall size of the optic nerve. In a very small nerve, the cup will naturally be much smaller, so even a ratio of 0.4 may be suspicious. In a very large nerve, the cup will naturally be much larger, so a ratio of 0.7 may be more likely to be normal.
Another clue you can use is to evaluate both the horizontal and vertical C/Ds. In a healthy eye, the horizontal C/D ratio is typically greater than the vertical C/D ratio. However, there is evidence suggesting that the vertical C/D ratio increases faster in early and intermediate glaucoma. Some specialists evaluate the disc rim rather than focusing on the C/D ratio.
Bayonetting and nasalization of vessels
Blood vessels can also be affected in glaucoma. As glaucomatous cupping occurs, the blood vessels appear to shift nasally due to loss of the neuroretinal rim. Both attenuated vessels and optic disc hemorrhages (also known as Drance or splinter hemorrhages) can also occur.4 Additionally, there can be bayonetting of vessels, which is the appearance of kinked or sharply turned vessels as they advance over the edge of the cup.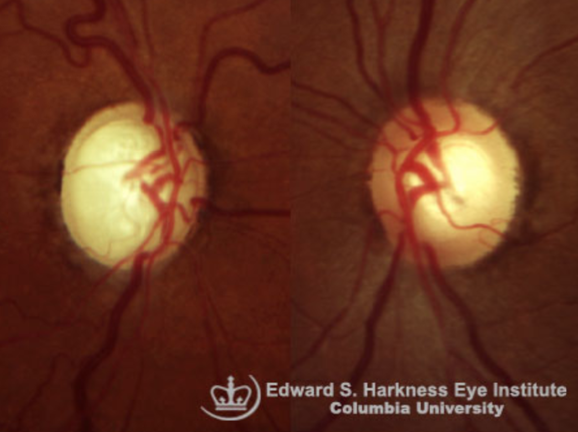 Asymmetry
Certain types of glaucoma affect both eyes. However, many patients with glaucoma can present with asymmetry between the right and left optic nerves, including differences in cupping and progression of disease.11 C/D ratios should be compared between eyes in patients with suspicious optic discs. Asymmetry of the C/D greater than 0.2 occurs in less than 1% of healthy individuals.12 The presence or absence of asymmetry between the optic nerves of each eye can be helpful when comparing the nerves.13 Furthermore, past trauma in an eye can lead to angle recession glaucoma, which presents unilaterally.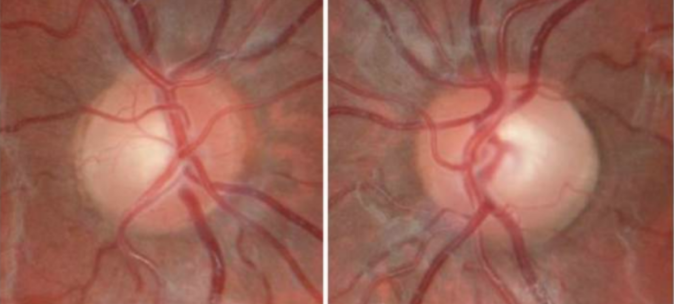 Optic nerve color
Glaucoma usually presents as optic disc cupping without pallor. This can help differentiate glaucoma from other ophthalmic pathologies that can change the color of the optic nerve. A normal optic disc has a pink-orange appearance with a pale center where the optic cup is. In glaucoma, the color of the optic disc is usually preserved unless the patient has advanced stage glaucoma. Pallor can indicate that a secondary optic neuropathy is present, such as optic neuritis or a compressive lesion.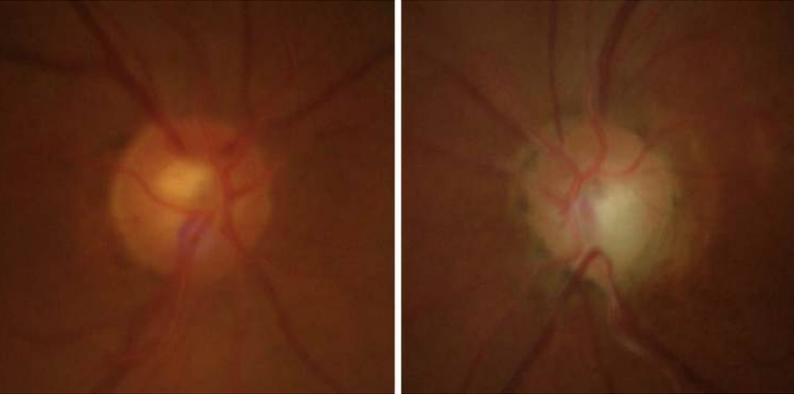 Peripapillary atrophy
Peripapillary atrophy (PPA) is a wasting or thinning of the retinal pigment epithelium (RPE) cells around the optic nerve. Examining the peripapillary retinal nerve fiber layer (RNFL) for atrophy can be useful in assessing progression of glaucoma.6 In a healthy eye, the significance of PPA is unclear but it can occur normally in aging.7 When present, PPA can be divided into two zones, distinguished based on location – an alpha zone and beta zone. The beta zone is the area that directly borders the disc, while the alpha zone is located more peripherally.6 Hypo or hyper pigmentation can be visualized in the alpha zone, but these pigment irregularities in the alpha zone typically are not pathologic in healthy eyes.6 In contrast, recent studies have linked peripapillary atrophy in the beta zone with glaucoma. In the beta zone, large choroidal vessels become visible. These differences in location can present with different visual field defects. Consequently, peripapillary atrophy is thought of as a second order sign of damage to assess risk and progression of disease.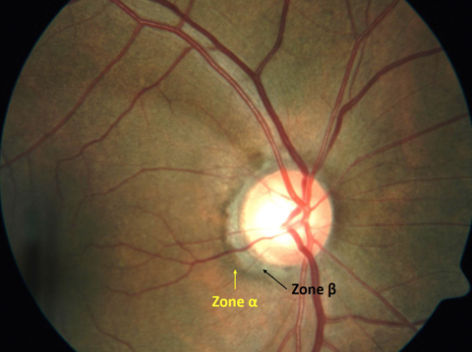 Optic disc tilting
Optic disc tilting occurs due to mechanical stress on the peripapillary sclera. Tilting can be congenital or secondary to another condition like glaucoma. A tilted disc is not necessarily pathologic. Tilting is heavily associated with myopic eyes and may be protective against glaucomatous progression in myopic patients.8,9,10 It can be challenging to diagnose glaucoma in myopic eyes as the disc appears elongated and tilted. A tilted disc will appear vertically elongated and at an oblique angle.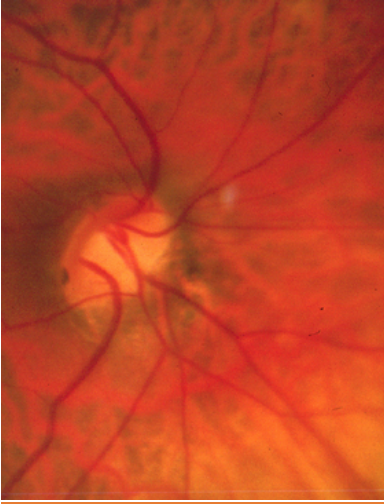 Vessel baring
Finally, another vascular change to look out for is the presence of vessel baring. In a healthy disc, circumlinear vessels may run under or rest on the edge of the cup. However, as retinal tissue loss occurs and the rim narrows, these vessels may be exposed and appear suspended above the edge of the cup. While this sign isn't specific to glaucoma it is also associated with glaucomatous damage.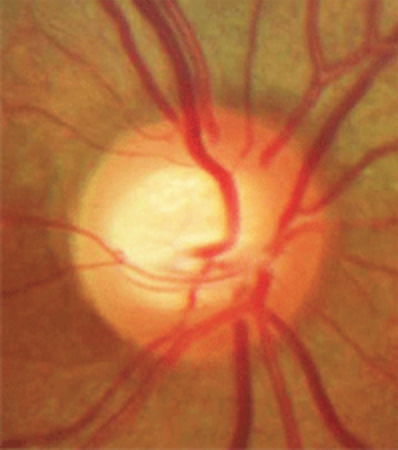 References
Turgut, B. (2017, November 1). Pearls for Correct Assessment of Optic Disc at Glaucoma Diagnosis. Retrieved from https://www.touchophthalmology.com/pearls-for-correct-assessment-of-optic-disc-at-glaucoma-diagnosis/
Friedman, D. S., & Varma, D. K. (2019, January). Subtle Rim Thinning in a Glaucoma Suspect. Retrieved from http://glaucomatoday.com/2019/02/subtle-rim-thinning-in-a-glaucoma-suspect/
Root, T. (2017, February 19). What is the "ISNT rule" in glaucoma? Retrieved from https://timroot.com/what-is-the-isnt-rule-in-glaucoma/
Ariga, M. (2014). Progression of Optic Disk and Visual Field Changes in Glaucoma. Gems of Ophthalmology—Glaucoma, 422–422. doi: 10.5005/jp/books/18037_23
Glaucomatous Optic Nerve- Digital Reference of Ophthalmology. (n.d.). Retrieved from https://www.columbiaeye.org/education/digital-reference-of-ophthalmology/glacucoma/optic-nerve-others/glaucomatous-optic-nerve-0
Dai, Y., Jonas, J. B., Huang, H., Wang, M., & Sun, X. (2013). Microstructure of Parapapillary Atrophy: Beta Zone and Gamma Zone. Investigative Opthalmology & Visual Science, 54(3), 2013. doi: 10.1167/iovs.12-11255
Manjunath, V., Shah, H., Fujimoto, J. G., & Duker, J. S. (2011). Analysis of Peripapillary Atrophy Using Spectral Domain Optical Coherence Tomography. Ophthalmology, 118(3), 531–536. doi: 10.1016/j.ophtha.2010.07.013
Kumar, R. S., Baskaran, M., Singh, K., & Aung, T. (2012). Clinical Characterization of Young Chinese Myopes With Optic Nerve and Visual Field Changes Resembling Glaucoma. Journal of Glaucoma, 21(5), 281–286. doi: 10.1097/ijg.0b013e318218253b
Lee, J. E., Sung, K. R., Lee, J. Y., & Park, J. M. (2015). Implications of Optic Disc Tilt in the Progression of Primary Open-Angle Glaucoma. Investigative Opthalmology & Visual Science, 56(11), 6925. doi: 10.1167/iovs.15-17892
Park, H.-Y. L., Kim, Y. C., Jung, Y., & Park, C. K. (2019). Vertical disc tilt and features of the optic nerve head anatomy are related to visual field defect in myopic eyes. Scientific Reports, 9(1). doi: 10.1038/s41598-019-38960-6
Golnik, K. C. (1998). Congenital optic nerve anomalies. Current Opinion in Ophthalmology, 9(6), 18–26. doi: 10.1097/00055735-199812000-00004
Chang, T. C., Ramulu, P., Hodapp, E., & Thanos, A. (2016). Clinical Decisions in Glaucoma. Miami, FL: Bascom Palmer Eye Institute.
Marjanovic, I. (2011). The Optic Nerve in Glaucoma. The Mystery of Glaucoma. doi: 10.5772/19811
Black, Greg. "Monitor or Medicate?" Review of Optometry, 19 Apr. 2011, www.reviewofoptometry.com/article/monitor-or-medicate.