Robert Finley MD, Serena Choi MD, Charlie Zhang MD, Shreya Prabhu MD MPH
Outside of refractive error, strabismus is one of the most common ophthalmologic conditions affecting the pediatric population. Strabismus is a condition where the eyes are misaligned. If present at a young age, this can lead to amblyopia as well psychosocial issues with peers. Identifying the underlying cause of strabismus can be a challenging task especially with the added difficulty of examining a child who may be inattentive, uncooperative, or too young to answer questions.
This article will focus on the most common types of strabismus you'll encounter in clinic. Check out our article introducing the basics of pediatric strabismus, and testing techniques to get an overview on how to approach the physical exam in patients with strabismus.
Types of strabismus
Heterotropias that present in the first year of life
Pseudoesotropia
This is a condition in which a child has the appearance of esotropia but does not have true misalignment. This appearance occurs because family/primary care doctors notice less sclera on the nasal side of the eye(s) than the temporal side often due to epicanthal folds or a wide nasal bridge. The asymmetry of scleral show on the nasal side compared to temporal side is accentuated when the infant looks in side gaze, sometimes such that no white is seen on the nasal side of the adducting eye. Cover testing should be attempted to confirm no deviation, but Hirshberg can be helpful in cases when cooperation is limited. A refraction should be obtained – high hyperopia should prompt revaluation in the future to assure that there is no underlying true accommodative esotropia present.

Image modified from morancore.utah.edu "Pseudoesotropia"
Congenital esotropia (ET)
These children tend to have relatively large deviations (20-40 PD) but with relatively normal levels of hyperopia (~+1-2 D). There can occasionally be a family history of congenital ET or a family member who has undergone multiple strabismus surgeries. These are often associated with inferior oblique overaction. Classically, patients will develop latent nystagmus and dissociated vertical deviation (DVD). Although hyperopia is often present, these children typically do not respond well to treatment with glasses alone and often require surgery to align the eyes. Even with early surgery, these children often have poor binocular fusion with poor stereo vision. For these reasons, they should be followed closely for the development of amblyopia and treated aggressively with patching to maintain visual acuity in each eye.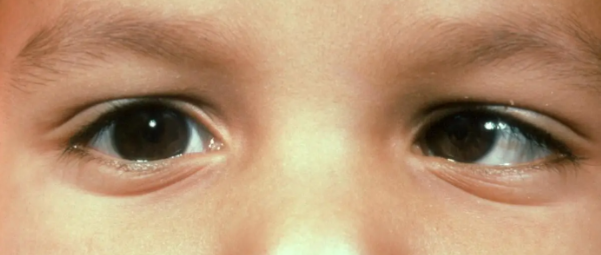 Image from aao.org "Infantile Esotropia"
Congenital exotropia (XT)
This is a relatively rare diagnosis that often occurs in children with other neurologic developmental issues. Surgery is often performed to help with eye contact and social interactions as they are rarely able to fuse. Amblyopia may be difficult to assess due to developmental delay but should be treated aggressively if a preference for one eye or the other develops.
Heterotropias that present after the first year of life
Accommodative esotropia (ET)
This is the most common type of ET that you will encounter in clinic. Children with accommodative ET present between age 1-5 and have high levels of hyperopia of ~+4 D that drive the accommodation reflex leading to excess convergence. Families usually do not note any esotropia in the first year of life. It is common to have a family history of ET.
Accommodative ETs are usually worse at near due to increased accommodative drive. These children should be given their full cycloplegic refraction for full time wear. Many children will respond well and return with complete resolution of their ET; however, others may have residual ET that is reduced by glasses (known as partially accommodative ET) or even completely unaffected by the glasses (known as basic acquired ET). Partially accommodative ET and basic acquired ET can potentially evolve as a consequence of accommodative ET that has gone on too long without treatment. It often requires surgical correction for the amount of residual ET in glasses. These children should be closely monitored for amblyopia as preference for one eye or the other can set with even short periods of uncorrected crossing.
Nonrefractive accommodative ET (aka high AC/A ratio ET)
This is a less common cause of esotropia. Patients have normal levels of hyperopia (~+1-2 D) and will have significant crossing at near with little to no crossing at distance with a full cycloplegic correction. The goal of these children is to ensure that they are ortho at distance so that binocular fusion can develop. Occasionally bifocal lenses can be prescribed for near work.
Intermittent exotropia (XT)
This is the most common form of XT. These children tend to be slightly more myopic than other children their age, although there is little correlation between their refractive error and disease, unlike accommodative ETs. These patients will classically present with what their parents describe as a "lazy" eye that drifts out when the child is tired, waking up from a nap, or sick. The most important aspect about intermittent XT is what we refer to as "control", that is how well the patient controls their deviation:
Good control is an XT that is brought out only with breaking fusion and which will return to orthotropia immediately without any effort or blinking by the patient when binocular view is re-established.
Fair control also requires the breaking of fusion to bring out, but it often requires some degree of effort by the patient to bring back to the midline. This may be evidenced by blinking or tensing of facial muscles.
Poor control refers to XT that occurs spontaneously without breaking fusion and/or does not come back to midline until the contralateral fixating eye is occluded. These patients usually do not have diplopia – they suppress the deviating eye during periods of exotropia and fuse when straight.
Young children with good or fair control tend to develop good stereo vision and are at lower risk of amblyopia. These patients often can be observed or given spectacles with an overminused (more negative sphere than necessary) prescription to stimulate the accommodation reflex to trigger convergence and help control their XT. This strategy can only be applied to children who have a myopic prescription to begin with. Children with poor control often require surgery to realign the eyes to allow for development of binocular stereoacuity as well as minimize the risk of amblyopia. Adults and older children past the amblyogenic age group with poor control may elect to have surgery if they have strain or, rarely, diplopia, or notice difficulties with eye contact, social interactions, or self-confidence.
Heterotropias that can occur at any age
Sensory esotropia (ET) or exotropia (XT)
These occur due to obstruction of the visual axis or loss of vision in an eye. While the loss of vision in children produces a mix of sensory ET or XT, in adults it is much more common to develop a sensory XT. Occasionally, treatment of the underlying problem can result in realignment of the eye; however, it is not uncommon for the eye to remain deviated even after the vision is restored. In these patients, surgery is the only method of restoring function and cosmesis.
Decompensated exotropia
This often occurs in patients with intermittent XT as they age into adults or due to CNS issues, both of which are due to weakening of the tonic convergence reflex. In most cases of decompensated XT, control of the intermittent XT worsens and converts to a constant XT. Often these adults will have a history of a "lazy eye" growing up. These patients will frequently require strabismus surgery.
Treatment
Treatment should begin as early as possible so that visual cortex development can occur with appropriate visual input from both eyes. During the first 6 months of life some degree of misalignment may be normal in an infant. Visual cortex development continues until the age of about 6y to 9y in children, so it is especially important to begin treatment for amblyopia before this time.
Patching – The stronger eye is patched for up to six hours per day so that the patient is forced to use the non-dominant eye. Constant, full-time patching may lead to "reverse amblyopia" or amblyopia in the good eye.
Refractive correction – To prevent worsening heterotropia or amblyopia, refractive correction of vision plays an important role. Determining the proper prescription using retinoscopy is crucial in providing the patient with proper visual stimulus and eyesight.
Prism – Prisms can be added to spectacle prescription in patients with diplopia, to regain bifoveal fixation. Prism power is determined using cover testing and can be subjectively confirmed by allowing a patient to trial the prism, holding a loose prism over glasses. In general, patients rarely tolerate more than 12pd of correction due to blur and chromatic aberration. In children, prisms are used rarely, except in cases where the deviation is felt to be potentially temporary, or while awaiting surgery in an older child with diplopia.
Surgery – If refractive correction is not successful, then surgery may be necessary. Muscles can either be recessed or resected:
Recession surgery

is a procedure where the muscle is detached from the patient's sclera and then re-attached to the sclera posterior to the original insertion. This decreases the tension that the muscle is able to apply when pulling the eye in the muscles' direction of action. For example, recession surgery on the lateral rectus will reduce the abducting force of the muscle and is used to treat an exodeviation.
Resection surgery

is a procedure where a muscle is detached, a portion is excised, and the muscle is sutured back to the sclera at the original insertion. Effectively, this shortens the overall muscle length causing greater tension in that direction. For example, resection surgery on the lateral rectus will cause the eye to be pulled more laterally and is used to treat an esodeviation
Conclusions
Strabismus can have a variety of etiologies and determining the underlying type and cause is often more important to treatment than measurement of the deviation.

Treatment in children should proceed immediately to prevent amblyopia. If amblyopia has developed, there should be a very low threshold for patching.

Treatment options often include therapeutic refractive correction, surgery and other adjunctive options.