Angela Chen MD, Shanlee Stevens MD, Adam Kessler, Justin Karlin MD
In this article, we will review common orbital and oculoplastic surgery examination techniques. This is intended for PGY1 and PGY2 ophthalmology residents.
When examining the eyelid, it is important to assess both structure and function.
Eyelid Examination Parameters
Abbreviation

Exam

Distance from A to B

Normal Range

MRD1

Upper eyelid margin to reflex distance

Corneal light reflex → upper lid margin

4 – 5.5mm

MRD2

Lower eyelid margin to reflex distance

Corneal light reflex → lower lid margin

4.5 – 6.5mm

PFH

Palpebral fissure height

Upper lid margin → lower lid margin




MRD1 + MRD2 = PFH

M: 8 – 12mm




F: 7 – 10mm

LF

Levator excursion or levator function

Distance upper lid elevates from 1) downgaze with hand on patient's forehead followed by 2) upgaze without change in head position

Good: 12 +
Fair: 5 – 11mm


Poor: ≤4mm

Upper lid crease

Upper lid margin → upper lid crease in downgaze

M: 10mm


F: 8mm

TPS

Pretarsal show or tarsal platform show

Upper lid margin → upper lid crease in primary gaze

M/F: 2 – 4mm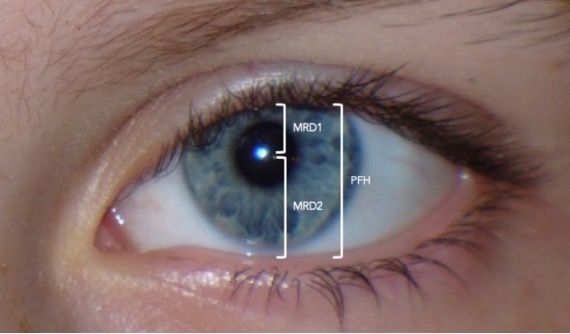 MRD1, MRD2, and PFH (Photo: ophthalmologyreview.org)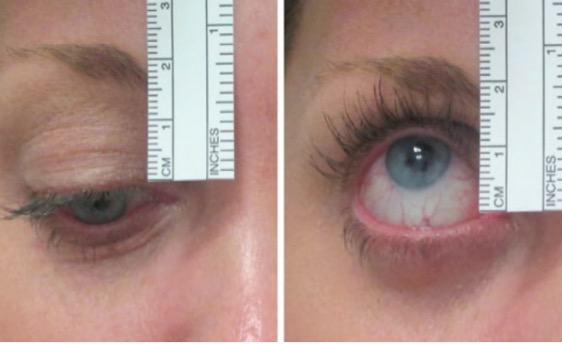 Measuring levator function (photo: parjournal.net)
Other features to look for: involuntary blink dynamics (is the blink symmetric? complete?), voluntary closure (is the closure weak?), lagophthalmos (if present, look for Bell's reflex, i.e. upgaze with eyelid closure, assess facial sensation)
Special Tests
Hertel exophthalmometry
This is used to quantify axial globe position (the amount of proptosis or enophthalmos present).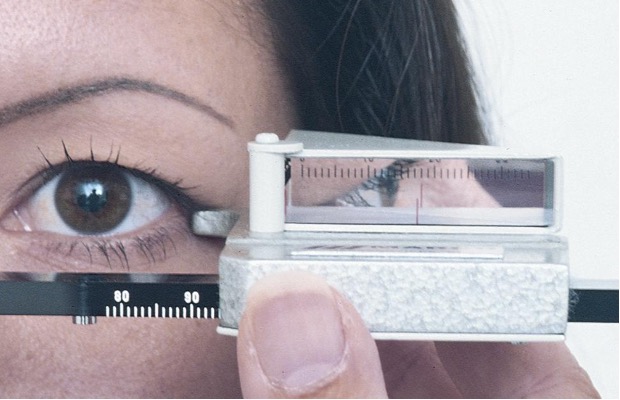 Hertel exophthalmometer (photo: www.aao.org)
Place the exophthalmometer on the lateral orbital rim using the smallest base.

Use your left eye to examine the patient's right eye and vice versa.

Ask the patient to direct their gaze forward, at your ipsilateral eye (your left eye)

Line up the anterior and posterior red lines.

Measure distance from lateral orbital rim to the most anterior part of the cornea.

Proptosis of ≥ 22 mm or a difference of ≥ 2mm between eyes may need more evaluation.

Repeat the same, now using your right eye to examine the patient's left eye.
Dilation and probing
This is used to evaluate canalicular patency.
Instill topical anesthetic

Use a dilator to gently dilate the canaliculus

Hold lateral traction on the eyelid

Insert a Bowman probe into the punctum

vertically ~2mm

Slowly and gently turn the bowman probe to a horizontal position

Advance the probe

medially

until you feel a

hard

stop against rigid lacrimal bone.
*This can be uncomfortable for patients, be sure to explain this before starting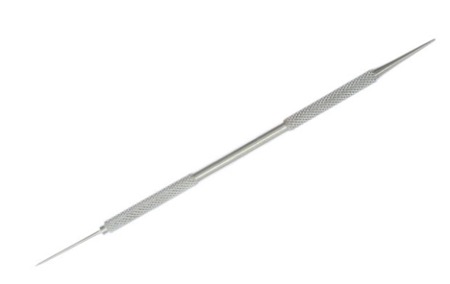 Punctal dilator Bowman probes of various sizes Lacrimal cannula
Irrigation of the nasolacrimal system
After dilating the canaliculus, a 23 gauge lacrimal cannula on a 3 cc syringe filled with saline may be used to irrigate and evaluate patency of the lacrimal system. Gently insert the cannula into the canaliculus and flush with saline. There should be minimal resistance to irrigation in a patient with a patent nasolacrimal system.
Patient feels saline in the back of the throat → patent

Reflux out of the canaliculus being irrigated → obstruction at the canaliculus

Reflux out of the opposite canaliculis → obstruction at the common canaliculus, lacrimal sac, or nasolacrimal duct.

Note: if the patient feels saline in the back of the throat, but there is also mucopurulent reflux from the opposite canaliculus, this may indicate the presence of partial nasolacrimal duct obstruction
Phenylephrine testing
Instilling phenylephrine in patients with ptosis informs whether they would benefit from surgical excision of the Muller's muscle (Muller's muscle-conjunctival resection [CMMR]). Phenylephrine is an alpha-adrenergic agonist and stimulates the sympathetically innervated Muller's muscle. Significant improvement in ptosis after instilling phenylephrine indicates the patient may be a good candidate for CMMR.
Phenylephrine 2.5% instilled in the inferior fornix of the more ptotic eye → positive test if MRD1 increases >1.5mm in 3-5 minutes

Note the position of the contralateral (less ptotic) upper eyelid for the presence of "Hering's" ptosis

A single CN III subnucleus controls both levator muscles; sometimes when the more ptotic lid is elevated manually, surgically or pharmacologically, the less ptotic lid may fall
Forced duction testing
This may be used to evaluate for restrictive strabismus as well as muscle entrapment in the setting of orbital fracture. You will probably do this a lot on call! (anytime there is trauma to the orbital area)
Performing forced ductions (photo: https://surgeryreference.aofoundation.org/)
Instill lidocaine jelly and allow it to sit for several minutes to make this as comfortable as possible.

Grasp the conjunctiva and underlying Tenon's capsule ~ 3 mm distal to the limbus with one or two toothed forceps (preferably 0.3 mm or 0.5 mm Castroviejo style forceps)

Rotate the globe in the cardinal directions of gaze to assess for restriction
*Particularly helpful to assess for inferior rectus entrapment in orbital floor fracture