Angela Chen, B.S., Benjamin Lin, M.D.
For many students, ophthalmology education is limited to a few classes in the curriculum and those two pages in First Aid that we all tried to cram before Step 1. However, if you hope to pursue ophthalmology, are starting an ophthalmology rotation, or simply want to learn more, here is a guide to several high-yield resources that will aid you in your eye endeavors.
Resources are not ranked in any particular order of utility. There were no conflicts of interest in the making of this guide, with the exception of including EyeGuru on the list.
General advice on how to use these resources:
Review TimRoot.com and/or EyeGuru.org before or during the start of your rotation to establish a strong, basic foundation in basic eye anatomy and pathology.
During clinic, keep a copy of the Wills Eye Manual in your white coat pocket (or MEEI Manual of Ophthalmology) to reference anything you aren't familiar with. Keep your favorite, highest yield pages from EyeGuru.org open on your computer or bookmarked from your phone's home screen. Cap colors for commonly used eye drops is especially useful to have as a beginner.
After clinic, learn more about cases you saw during the day using EyeWiki.org and EyeRounds.org. These two websites are also great starting references for any presentations that you will give during your rotation.
To prepare for OR cases, search for YouTube videos describing the surgery. Morancore.utah.edu and EyeRounds.org also both offer well produced surgical videos.
---
Free resources
Tim Root
https://timroot.com/



Strength: Beginner-level overview of ophthalmology exam techniques and common diagnoses that is fun to read and useful for establishing a solid foundation.
A practicing ophthalmologist with a penchant for cartooning and trivia, Dr. Root provides a beginner-level but thorough overview of ophthalmology and its subspecialties. On his website, you can access book chapters, videos, flashcards, and podcasts. In his book chapters, he reviews the fundamentals of common eye disorders within each specialty (i.e. diabetic retinopathy and age-related macular degeneration for retina). He provides videos on basic exam technique tutorials (slit lamp exam, retinoscopy, pediatric eye exam) and slit lamp exam findings for common eye pathologies. During your commute, tune into his two part "Eye Basics Audio Course" for a crash course on eye anatomy and the basic eye exam. This resource is useful for establishing a solid foundation prior to or during the start of rotations. Plus, if you enjoy corny jokes and fun facts, then your learning will be sprinkled with a few chuckles along the way.
---
EyeWiki

Strength: Comprehensive articles that are useful for learning more about patient cases and for developing presentations.
EyeWiki is the American Academy of Ophthalmology's online encyclopedia of over 800 articles written by ophthalmologists and reviewed by expert specialists. Categories are arranged by specialty and contain numerous articles on diseases, diagnostic techniques/tools, and treatments. Compared to other resources, EyeWiki delivers a more comprehensive coverage of common and uncommon but classically tested or pimped eye problems (since we all know exams love zebras). Perhaps comparable to UpToDate, EyeWiki references literature within the articles and in this regard, provides in-depth, evidence-based explanations that enhance fundamental frameworks. The article itself and its references are great starting points for any presentations that you may give on your rotation.
---
University of Iowa – EyeRounds

https://eyerounds.org/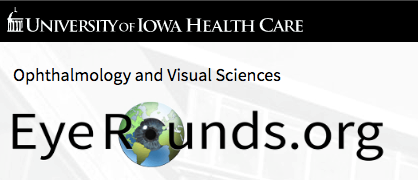 Strength: Contains ophthalmology exam and surgery tutorials, a searchable collection of images, a great glaucoma curriculum, and the most widely used gonioscopy instructional resources.
EyeRounds was developed by ophthalmologists at the University of Iowa to promote ophthalmology education for medical students, residents, and fellow physicians. The website is a treasure trove of material, containing overviews of diseases introduced with real cases as well as tutorials of exam and surgical techniques (written and video format). The EyeRounds Atlas showcases a searchable collection of images dating to as early as the 1970s that demonstrate classic presentations for various diseases. Notably, the ophthalmologists at the University of Iowa have also created its own glaucoma curriculum (http://curriculum.iowaglaucoma.org/) and gonioscopy training (http://gonioscopy.org/). If you are looking to study up on a patient or dive into learning outside of clinic, this is a great resource to use. Otherwise, the material may be too dense to sift through during the busy work day.
---
CataractCoach.com
https://cataractcoach.com/
Strength: Expertly narrated cataract surgical videos with new releases on a daily (yes, daily) basis.
CataractCoach primarily focuses on cataract teaching and surgical videos. They cover the entire gamut of cataract surgery from pre-op to post-op. For medical students, their videos on types of cataracts will help you better understand the cataract pre-ops that you'll be seeing a lot of in clinic. Their basic surgical techniques will help you better understand the different steps of cataract surgery and how every step builds upon the last. Residents will also benefit from learning the nuances of different surgical techniques as well as learning approaches to challenging cases and surgical complications. The more advanced videos cover topics like managing small pupils, floppy irises, IOL decentration, capsulorhexis issues, and more.
---
Straight from the Cutter's Mouth
Strength: Podcast episodes that that cover a broad range of topics that matter to both retina specialists and general ophthalmologists at all levels of training.
This is a retina podcast that features way more than retina! In addition to chatting with leaders in the field of medical retina and vitreoretinal surgery, Dr. Jay Sridhar hosts guest speakers who discuss things that matter to physicians of all specialties. Tune in to learn more about the newest advances in retinal diagnostics and treatment. Check out his broad-reaching discussions on topics like insurance, fighting burnout, medical education, literature and medicine, and more. The superstar support team that keeps things running includes Louie Cai, Angela Chang, and Mike Venincasa.
---
Eyes for Ears
Strength: Podcast episodes to keep your commute productive, catering to both beginning students and advanced residents.
Ben Young and Andrew Pouw met as ophthalmology residents at Yale, and started releasing podcast episodes for Eyes for Ears in January 2019. The independent podcast has multiple types of episodes that include reviews on testable ophthalmology topics for advanced residents and fellows preparing for OKAP tests and board exams, as well as its "Buddy Call" series which introduces clinical skills for junior residents and students. There are also interview episodes highlighting relevant issues for young ophthalmologists. All episodes can be found on their website www.eyes4ears.com, as well as on Apple Podcasts (https://itunes.apple.com/us/podcast/eyes-for-ears/id1449421786?mt=2) and most other podcast sources.
---
University of Utah – Moran CORE
https://morancore.utah.edu/ (to their main website)
https://youtube.com/channel/UCldQrlI8TxtG0AJ4JLhh1fQ/videos (to their YouTube page)

Strength: Well-made surgical videos and ophthalmic pathology overview.
The Moran CORE is an open source ophthalmology curriculum featuring videos of University of Utah's ophthalmology grand round lectures, resident lectures, and eye surgeries. Many of the videos are uploaded based on date and are not yet organized by category, so a fair amount of digging may be required. A section entitled 'Basic Ophthalmology Review' contains student-written articles on exam techniques and eye diseases organized by anatomy. Under surgery videos, you'll find tutorials on instrument holding technique, draping, and steps for common and newer surgical procedures (LASIK, Ahmed shunt, MIGS, SICS, etc.). For those interested in ophthalmic pathology, a broad and informative outline is available online as well (http://morancore.utah.edu/basic-ophthalmology-review/ophthalmic-pathology-for-medical-students/).
---
OCTcases

Strength: A comprehensive site reviewing OCT interpretation with dozens of practice cases that let you hone your skills in real clinical scenarios.
OCTcases was created by two ophthalmology residents (Jason Kwok and Austin Pereira) from the University of Toronto. They include high yield guides to not only macula OCT interpretation, but also OCT RNFL/GCL and anterior segment OCT. To reinforce your learning, they have an outstanding series of over 60 real cases covering retina, neuro-ophthalmology, uveitis, and glaucoma. Their cases feature not only straightforward pathology like age-related macular degeneration, retinal detachments, and vitreous hemorrhage but also more advanced topics like Vogt-Koyanagi-Harada, paracentral acute middle maculopathy, and more.
---
EyeGuru

Strength: Targets high-yield points for high-yield clinical cases, offers learning modules for practicing how to interpret imaging (OCT, fundus, topography), and BCSC-based flashcard decks.
EyeGuru was created by residents for residents (and aspiring residents!). During a busy rotation, it can be challenging to find more than a few minutes at a time to study. Not only does EyeGuru present information in a clear, succinct way, but tries to hits on the highest yield points in the highest yield topics. For common diagnoses like diabetic retinopathy that you are guaranteed to see on rotations, EyeGuru provides straightforward frameworks for learning the ins and outs of each disease, including presentation, diagnostics, management, and follow-up. It is filled with practical information that can easily be reviewed on a bus ride, before bed, or even during clinic. The learning modules are the best way to interactively practice analyzing ophthalmic imaging (OCT) and interpreting fundus exams (OCT, fundus, etc), the learning modules and written explanations provide immediate feedback in a low-stress learning environment. When you step into the ophthalmology clinic, you'll be a star ready to impress your residents and attendings.
---
Paid resources
The Wills Eye Manual
Purchase on Amazon: https://amazon.com/dp/1496318838/ref=cm_sw_em_r_mt_dp_U_aFIqDbDMP3KWH
Strength: A must have ER and clinic resource with detailed information on presentation, work-up and management plans for broad ranges of diagnoses.
You'll spy "Wills" in the pockets of many ophthalmology resident white coats. Divided into chapters based on specialty, this manual contains pertinent, high-yield material for a vast array of clinic and emergency diagnoses. The relevant signs & symptoms, history, differential, exam findings, management, and even optimal follow-up plans are presented. It provides recommendations on what imaging to order, dosages of medications/drops to prescribe, and other immediate next steps to perform. For this reason, it is an indispensable resource for ER consults or for seeing patients with pathology you aren't familiar with. When you purchase the book new, you can also activate the eBook version that is convenient for accessing on the go. Plus, it's great for reading during downtime to score points for being a diligent student (just try to read the hardcopy since no one can tell what you're doing on your phone!)
---
The Massachusetts Eye and Ear Infirmary Illustrated Manual of Ophthalmology

Purchase on Amazon: https://amazon.com/dp/1455776440/ref=cm_sw_r_tw_dp_U_x_CHIqDb8XKJRHN
Strength: ER and clinic resource with excellent figures and information about presentation, work-up and management plans for broad range of diagnoses.
This manual is a rival to Wills in that it too strives to serve as a user-friendly atlas for residents and medical students. It is organized based on anatomical structure and generally parallels the ophthalmological exam, from anterior to posterior structures. Each chapter contains a section about traumatic injuries of the corresponding anatomical region followed by common and then less common diagnoses along with their clinical findings, differential diagnoses, and management recommendations. The last chapter offers an overview of current ophthalmic technologies. Like Wills, it is a useful resource in the ER and clinic. The MEEI manual also contains carefully curated photographs and figures that complement the text and aid in clinical diagnosis. Whether residents use Wills or MEEI depends on the culture of the institution but if you're looking for a concise, well-executed resource for the ER and clinic, you can't go wrong with either.
---
OphthoBook (hard copy + questions book)

Purchase on Amazon (hard copy): https://www.amazon.com/OphthoBook-Dr-Timothy-Root/dp/1448638828
Purchase on Amazon (questions book): https://www.amazon.com/OphthoBook-Questions-Vol-1/dp/1533539715
Strength: Beginner-level overview of ophthalmology exam techniques and common diagnoses that is fun to read and useful for establishing a solid foundation (OphthoBook Questions for additional learning)
The printed version of Dr. Root's material is available on Amazon for purchase for learners who prefer hard-copies. Otherwise, all book chapters are online free of charge at www.timroot.com. For review, consider testing yourself with flashcards referencing material straight out of Ophthobook (https://timroot.com/extras/). If you would like to learn with questions, Dr. Root has an additional book with multiple-choice questions, easy-to-understand explanations, and more puns (https://www.amazon.com/OphthoBook-Questions-Vol-1/dp/1533539715).
---
Basic Ophthalmology
Purchase on Amazon: https://amazon.com/Basic-Ophthalmology-9th-Richard-Harper/dp/1615251235
Strength: Good for non-ophthalmologists to learn how to work-up common ocular complaints and when to refer patients to ophthalmologists.
Basic Ophthalmology, developed by the AAO, teaches students how to perform an eye exam and diagnose and manage common ocular disorders. Students are meant to read this book and come away knowing when to refer patients to ophthalmologists. Unlike many resources that organize diagnoses based on sub-specialty or anatomy, several chapters are devoted to common presentations that every future physician will encounter. Students will learn to recognize which presentations of "vision loss" and "red eye" will need emergent vs. urgent referral. There are also two chapters that cover which systemic diseases and drugs have manifestations in the eye, which is relevant to all fields of medicine. At the end of each chapter are several case-based questions for review. This is a great resource for students who are entering fields other than ophthalmology to learn how to manage common eye complaints and when to refer patients to ophthalmologists.