Bea Palileo, M.D., Benjamin Lin, M.D.
Welcome to the whole new world of ophthalmology! This article includes helpful tools to begin your first ophthalmology rotation as a medical student. This overview consists of basic ophthalmologic terminology, ocular history and physical exam (with a printable eye clinic template), common eye diseases, and EyeGuru pearls to ace your ophtho rotation.
Eye Terminology
First, you will need to learn a new language! As you will soon discover, ophthalmologists use several abbreviations and terminology unique to this field. To decode all of those pesky ophtho abbreviations, here is a link to an ophtho translator (https://eyeguru.org/translator/). You can type in individual terms or copy/paste entire notes to start learning. Also included is the most comprehensive online list of common ophthalmology abbreviations, if you prefer the old-fashioned way.
Ocular history
We will highlight questions you should ask targeting specific eye concerns in addition to the regular routine medical history taking.
History of Present Illness (HPI):
Start by obtaining their chief complaint, then continue to target specific concerns regarding the patient's eyes as needed. Ask about 5 categories: vision changes, ocular pain, abnormal ocular secretions, abnormal appearance, and trauma.
Vision changes

Blurred vision (peripheral or central vision)
Diplopia (monocular, binocular, horizontal, vertical, and oblique)

Tip: Make sure to ask if the double vision is monocular (present with one eye open) or binocular (present only if both eyes are open).

Floaters (moving lines or specks in the field of vision)
Photopsias (flashing lights)
Shadow or dark curtain in vision
Halos or rainbows
Color vision abnormalities
Blindness (ocular, cortical, perceptual)

Ocular discomfort or pain

Foreign-body sensation (a feeling of scratchiness)
Dry eyes
Photophobia (light sensitivity)
Headache
Burning
Itching

Abnormal ocular secretions

Discharge (purulent or watery)
Lacrimation (tearing) or epiphora (spilling of tears over the margin of the eyelid into the face)

Abnormal appearance

Redness
Misalignment of eyes
Ptosis (dropping eyelid)
Proptosis (protrusion of eye from socket)
Anisocoria (unequal pupil size)

Trauma

Type of collision
Any perceived foreign body into the eye
Chemical spill
Past Ocular History (POhx)
Use of eyeglasses or contact lenses (date of most recent prescription)
Ocular surgery (including laser)
Ocular trauma
History of amblyopia (lazy eye) or ocular patching in childhood
Ocular Medications (Gtts)
There are three important things to record when it comes to ocular medications (the type, the frequency, and the laterality—right eye or left eye). You will soon discover that the knowing the color of the eye drop type will be crucial as many patients know their medication by color instead of name.
Here is an eye drop color chart cheat sheet: https://eyeguru.org/blog/eye-drop-colors/.
EyeGuru Pearl: Print this chart or rewrite it in the front of your notebook as you will need to refer to this several times during your ophtho rotation.
Other important medical history
Remember that the eye is connected to the rest of the body, so don't forget all the important parts of a routine medical history!
Past medical/surgical history

Ocular findings can be a manifestation or association with systemic diseases.

EyeGuru Pearl: Always ask about a history of diabetes mellitus and hypertension, especially in retina clinic.

Important for pre-operative evaluation.

Systemic medications

Specific medications can lead to ocular toxicity

EyeGuru Pearl: Get ready for those hydroxychloroquine fundus checks in your retina clinic!

Allergies

Ask for any adverse effects to eye drops.
Environmental atopy (can be a clue to allergic/vernal conjunctivitis).

Social history

Tobacco, alcohol use, drug abuse, and sexual history will be important to record. Smoking is a risk factor for age-related macular degeneration. Many sexually transmitted diseases can have ocular manifestations such as uveitis and acute retinal necrosis.

Family history
Review of systems
Ocular physical exam
Ophthalmic vitals (Visual Acuity, Intraocular Pressure, and Pupils)
Visual Acuity (VA)

Obtain the best corrected visual acuity (BCVA). Make sure they are wearing their prescription glasses/contacts when you check this!
Give the patient credit for any line in which they get 50% or more of the letters correct. If they miss less than 50% of the letters on that line, you can indicate that by writing "-" and the number of letters they missed

Example: Patient gets 3 letters correct on the 20/30 line, which contains 6 letters: BCVA 20/30 – 3

Pinhole (ph) Acuity Test (helpful if patients forget their prescription glasses)

If the patient's visual acuity improves by 2 lines or more with pinhole, it is likely the patient has refractive error. This is because the pinhole admits only central rays of light, which do not require refraction by the cornea or the lens.

Note: In the clinic, visual acuity is typically measured at distance. Otherwise, in a consult setting outside of the clinic, it's often easier to measure at near. Keep in mind near vision may be affected by presbyopia.

EyeGuru pearl: Keep a near card in your white coat pocket.

Intraocular pressure (IOP)

Tonometry is a measure of intraocular pressure (Normal IOP: 10-21 mmHg). There are three ways to measure IOP:

Non-contact tonometry
Tono-pen
Goldman applanation using the slit lamp.

Pupils

There are five important things to consider when examining the pupils: size, shape, position, symmetry, and color (moreso referring to whether or not you see a cataract). For a detailed overview on performing the pupil exam: https://eyeguru.org/blog/examining-the-pupil/.
External examination
Extraocular motility (EOM) and alignment

Check for gross alignment in primary position (straight ahead). There are technically six cardinal positions of eye movement. All six can be evaluated in each eye by having the patient follow your finger as you draw a capital "H" in front of them.

Confrontational Visual Field (VF) Testing

There are several unique ways ophthalmologists test for visual fields. We recommend following your own medical school's clinical technique.
Diagraming the VFs is unique because you plot the abnormality as the patient sees it. See the image below. (T: temporal, N: Nasal)
Tip: If the patient's vision is worse than count fingers, then use hand motion by waving your hands in each quadrant to assess visual fields.
Slit Lamp Examination (SLE)
The slit lamp is the core instrument of ophthalmology and using it takes practice for beginning medical students. We've collected the most high yield tips to get you examining like a pro. These are the hard things that all beginners struggle with: https://eyeguru.org/essentials/slit-lamp-tips/
Here is the list of anterior segment structures that can be visualized using a slit lamp: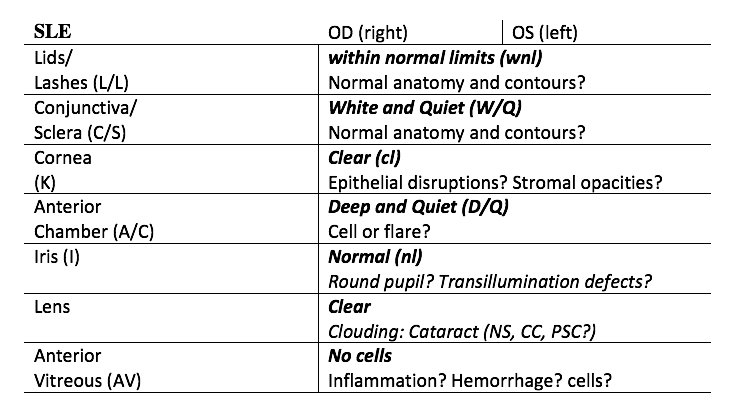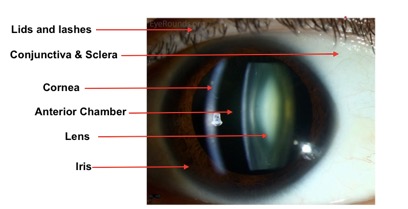 Dilated Fundus Examination (DFE)
The fundus , the retina, the back of the eye are all words that are used interchangeably by ophthalmologists. There are two ways to visualize the posterior segment of the eye:
Here is the list of posterior segment structures that can be visualized using the techniques above with some things you should be looking for:
Vitreous: Clear? Has haze/cells? Vitreous hemorrhage?
Optic Disc nerve: Cup-to-disc ratio? Focal thinning? Pallor? Symmetric?
Macula: Foveal light reflex? Drusen, edema or exudates?
Vasculature: Contour and size? Intraretinal hemorrhage? Attenuated? Sheathing?
Periphery: Tears or holes? Lesions? Pigmentary changes?
Eye clinic template
The ocular history and physical exam can seem overwhelming and difficult to remember at first. Here is an eye clinic template that you can bring to clinic.
Download template here: Ophtho clinic template
Template preview:
Ocular imaging
There are several unique imaging modalities that are used daily in ophthalmology. We will outline each of them here:
Common eye diseases
The bread and butter of ophthalmology includes the following diseases: cataracts, dry eye syndrome, corneal abrasions and ulcers, age-related macular degeneration, diabetic retinopathy, and uveitis.
Our pathology frameworks in the residency essentials section covers the basics of how to diagnose and manage these diseases: https://eyeguru.org/residency-essentials/
Other resources
If that wasn't enough information already, here is a comprehensive review of the best ophthalmology resources available: https://eyeguru.org/blog/ophtho-resource-guide/.
EyeGuru pearls
Have the following tools in your white coat:

A near card
Alcohol wipes to wipe down the slit lamp
Cotton swabs
A light source
A book (Wills Eye Manual) or other reading material – this will allow you to look things up while the resident/attending is busy writing the note.
Cheat sheets: eye clinic template and an eye drop color chart
*A set of lenses—if you are lucky enough to know a friend or family member in ophthalmology who is willing to let you borrow a 90D and a 20D, your DFE skills will improve much faster and you may even start seeing your own patients!

Anticipate

Know when it is appropriate to turn lights on and off.
Clean the slit lamp with every new patient.
Be ready to offer patients tissues (a lot of them).
In glaucoma clinic, patients love it when you write down their medication regimen. Be ready with a notepad to write down: name and color of the eye drop, frequency, and laterality (R or L eye).

You will be standing A LOT, wear comfortable shoes.
For the ladies, using a slit lamp while wearing a skirt is challenging. I would consider wearing pants for the first week.
Once you are lucky enough to scrub into a case and observe a surgery through a scope, make sure to write down your pupillary distance (PD). This allows for you to position yourself much faster in future surgeries.
If you are practicing in an ophthalmology clinic with lots of Spanish-speaking patients here is a medical Spanish for ophthalmology survival guide: (https://eyeguru.org/blog/spanish-guide/)
Once we have convinced you to join the dark side into the microscopic world of ophthalmology, check out the following articles to guide you towards a successful ophthalmology interview match! https://eyeguru.org/blog/planning-for-ophtho-interviews/.
References
Blomquist, Preston H. Practical Ophthalmology: A Manual for Beginning Residents. American Academy of Ophthalmology, 2015.
The 8-Point Eye Exam. American Academy of Ophthalmology, 2018. aao.org/young-ophthalmologists/yo-info/article/how-to-conduct-eight-point-ophthalmology-exam.
Basic and Clinical Science Course 2014-2015. Fundamentals and Principles of Ophthalmology. American Academy of Ophthalmology, 2014.