You've finally arrived.
Undergrad, MCAT, medical school, Step 1. Red eye flights as you interviewed for residency. The stress of early January match when all your friends were relaxing on radi-holiday. Then the elation of match! Your early retirement from med school!
And now you are here, walking into clinic on your first day of ophthalmology residency. You pick up the chart outside the door: Cataract evaluation. Simple as that…find it, fix it, right?
Not so fast. What type? What grade? What tests? Does the patient meet indications?
This framework will provide the high level overview.
Cataract Type
There are 3 primary types of cataracts that represent 99% of the cataracts that you will encounter in clinic. Sure, kids will have congenital cataracts, and certain medications or systemic conditions will result in special cataracts, but these are not important to know at this point.
Cataracts types are defined by where the opacities exist within the lens and graded by how severe the opacities are at that location.
Nuclear sclerotic cataract (NS) – Cloudiness of the nucleus, the central portion of the lens.
Cortical spoking cataract (CS) – Swelling of the cortex causing spoke/wedge-like peripheral cloudiness.
Posterior subcapsular cataract (PSC) – Opacity in the posterior capsule of the lens, often seen in younger individuals, steroid users, and diabetics. All else being equal, these are usually the most visually significant.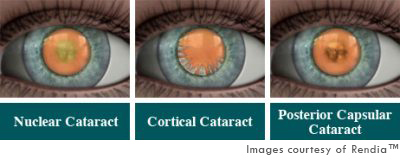 Cataract Grading
Now that you know the types, how do you communicate their severity to others? This is a poorly defined topic. Some clinicians go with their gut feel. Others use visual acuity as a rough guide.
Cataract grading is important because patients will often give a very nebulous complaint about their vision getting worse, and it will be your job to figure out why. A cataract is often the cause, and only an accurate prior grading can help you determine whether the cataract has actually changed since the last visit. If it hasn't, then you need to look for other causes of vision loss. Having a reliable grading system helps immensely.
In addition, surgical complication rates in training programs are high (up to 5% of cases vs. 0.2% post-training), and it is important to weigh the risk of surgery versus the potential benefit. For example, if a patient has both a cataract and macular degeneration, they may not actually benefit from surgery if the cataract is mild (Grades 1-2+). Knowing how much you would expect a cataract to affect vision helps you determine whether cataract surgery is worth the risk.
Finally, most programs aim to have third year residents hang out primarily in the operating room. They often won't personally evaluate every patient before surgery. As a junior resident, you need to be able to accurately convey the characteristics of a cataract to your seniors so that they can determine the approach, plan which cases should go to less or more experienced residents, and anticipate surgical complications.
In 2002, The WHO published a simplified cataract grading scale. These images are directly from that paper:
Nuclear sclerotic (NS)
Best graded with slit beam at 30 to 45 degree angle to the cataract. In an early cataract, you will see that the central nucleus is actually more clear than the anterior and posterior embryonic layers of the lens:
NS tr or 1+: Nucleus clearer than anterior/posterior sections
NS 2+: Nucleus equal to the anterior/posterior sections (same opacity level throughout)
NS 3+ Nucleus denser than anterior/posterior sections
NS 4+ Brunescent: Cataract completely opaque/brown
Cortical spoking (CS)
Best graded while visualizing with retroillumination. It may be difficult to retroilluminate if there is a concurrent NS cataract. By WHO criteria, think of the lens as a pizza and sum up the area of the peripheral spoke like opacities.
CS 1+: ⅛ to ¼ of the total area
CS 2+: ¼ to ½ of the total area
CS 3+: ½ or more of the total area
Posterior subcapsular cataract (PSC)
Also best graded while visualizing with retroillumination. Like CS, PSC may be difficult to retroilluminate if there is a dense concurrent NS cataract.WHO criteria, graded on vertical height (in mm)
PSC 1+: 1 mm to 2 mm
PSC 2+: 2 mm to 3 mm
PSC 3+: >3 mm
These basic measurements are combined into a cataract grade. You can have multiple types of cataracts at once and this can be written as the following:
OD: 2+ NS, 2+ CS, 1+ PSC
OS: 2+ NS, 1+ CS
Visual acuity
Beyond the cataract grade, there is a minimum visual acuity that is generally indicated for surgery. This varies from one training program to the next, and it is used to weigh the benefit of surgery vs. the high complication rate of residents. Some attendings in practice will do cataract surgery on 20/30, 20/25, and even 20/20 eyes if glare or nighttime symptoms exist! This is NOT our goal in training as our complication rates may be up to 50x higher than those of a veteran surgeon.
In most residency training programs, we aim for vision worse than 20/40 to 20/50 as a prerequisite for cataract surgery, along with symptomatically decreased vision. This vision can result from a combination of the above cataract types. It's also important to rule out retinal and corneal etiologies of decreased vision before starting preop testing to maximize your chances of improving visual acuity postoperatively.
Once we determine that a patient needs surgery, we are ready for pre-op testing.
Treatment
Treatment of cataracts is surgical. Although there are rumblings every few years about eyedrops which dissolve cataracts, there are not yet any evidence-based treatments except surgery. The most commonly performed cataract operation is phacoemulsification. Newer methods augment phacoemulsification with femtosecond laser, but these do not drastically change the underlying procedure.
Practice grading cataracts below, then click here to learn how to do pre-op testing and post-op evaluations.
Conclusions
These 3 types of cataracts cover 99% of the cataracts that you will see in clinic: nuclear sclerosis (NS), cortical spoking (CS), and posterior subcapsular (PSC).
Each cataract subtype is graded depending upon its severity by WHO criteria.
Indications for surgery include: 20/40 vision or worse (varies by institution) and symptoms such as glare/halo/photosensitivity.
Complication rates in training programs are higher than average. Knowing how to grade cataracts will ensure that the surgery you are planning is worth the risk.
References
Thylefors B, Chylack LT, Konyama K et al. A simplified cataract grading system. Ophthalmic Epidemiology 2002
Your Score:
Your Ranking: