Corneal abrasions, foreign bodies and corneal ulcers are a common reason the emergency department will call you, or a new patient will come into your clinic.
The cornea is exquisitely well innervated, so any disruption results in severe pain. A great way to diagnose that a patient's eye pain is corneal is to instill a drop of proparacaine or other topical anesthetic. If pain significantly decreases or disappears, this is strong evidence that the pain is corneal in origin.
There is a lot of nuance in this topic and specific management is important to learn. However, it is possible to conceptualize these entities into 3 broad categories:
1) Noninfectious (corneal abrasion)
2) Infectious but non vision threatening (bacterial ulcers)
3) Infectious and vision threatening (bacterial ulcers)
Level 1 – Noninfectious corneal abrasions
Dust, Sand, Debris
These are your easy, run of the mill corneal abrasions. When we diagnose these corneal abrasions, 99% of patients will have a strong story. Usually, the person can tell you exactly when and where the pain started, accompanied by their efforts to wash it out. Without a great story, or if the patient has any risk factors (contact lens wearer) it's better to err on the safe side and consider more potent antibiotics usually reserved for level 2 or level 3 corneal abrasions.
In all cases of corneal abrasion, it is important to flip the upper eyelid and fully evert the lower eyelid in order to search for debris lodged underneath the eyelid. Vertical linear abrasions are nearly pathognomonic for embedded eyelid debris. If a retained foreign body is suspected, you can use a Morgan lens to flush the eye with a few liters of water. For going home, prescribe a lubricating ointment such as erythromycin or bacitracin ointment and cycloplegic like cyclopentolate, which helps to control the pain.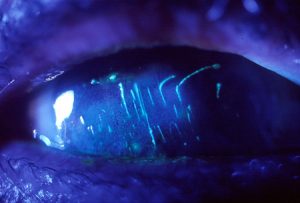 Corneal foreign body removal
A very satisfying procedure! Metal projectile injury (from grinding, sanding, hammering) is extremely common. If these particles do not penetrate deeply into the cornea, they are often easily removed with a 25-30 gauge needle or jewelers forceps. Metallic projectiles should be removed within six hours to reduce the risk of a long-standing "rust ring" from forming. You can use a corneal burr tool to polish the surface, especially if the foreign body is located near the visual axis. If a foreign body is particularly deep, steroids can be considered to prevent scarring. If it is too deep to remove with a needle or forceps, take the patient to the OR.
Contact lens wear
Many contact lens patients will come in with a corneal abrasion. The majority of these abrasions result from mechanical trauma during the process of putting on or taking off lenses. While this often heals when the patient takes a break from wearing their lenses, it is very important to watch these patients carefully. Bacteria can easily take root in a corneal abrasion, turning it into a corneal ulcer.
Anesthesia
A post op patient who wakes up with a crescent shaped corneal abrasion has had their lids inadequately taped by anesthesia, but anesthesia will never admit it. Just smile agreeably and put in a bandage contact lens (BCL). The BCL is fantastic for these cases, as it relieves the pain almost completely, and there is low baseline infection risk. If you don't have one available, prescribe a lubricating ointment and a cycloplegic.
Treatment
Think lubrication + pain management. For lubrication, artificial tears, ointment (lacrilube) or erythomycin ointment works well. For pain management, cycloplegics like cyclopentolate reduce ciliary body spasm and help immensely with pain.
Level 2 – Infectious but NON vision threatening corneal ulcers
These are infectious ulcers, but they are small (<2mm) and not in the visual axis. Usually, patients don't have decreased vision with these infections. 90% of these patients will be contact lens wearers. Often, these result from patients not taking lenses out at night. I've had some patients leave contacts in for weeks or even months at a time!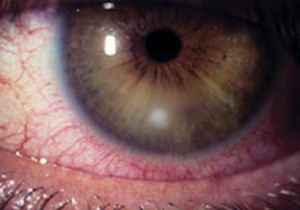 Treatment
Here, erythromycin ointment is generally not enough. We step these patients up to a strong antibiotic such as a 3rd generation fluoroquinolone like ciprofloxacin (Ciloxan) 4 times / day and follow up within 2-3 days. In some areas, resistance patterns favor the use of newer fluoroquinolones such as moxifloxacin (Vigamox) or gatifloxacin (Zymaxid). You should consider culturing these ulcers.
Level 3 – Infectious AND vision threatening corneal ulcers
These are the infections you'll have to keep an eye on very closely. Not only are these infections vision threatening, but they can also cause corneal melting or endophthalmitis if left untreated. These ulcers can have associated cell / flare, hypopyon, or endotheliitis.
Contact lens-associated ulcers
These ulcers are scary because Pseudomonas is the most common organism. These are often rapidly progressing. Classically, these patients sleep in their lenses, leave them in for weeks, or use cosmetic contacts.
Treatment
For these vision threatening ulcers, we generally start the patient on fortified antibiotics (a specially compounded form of super concentrated topical antibiotic). You can always taper or narrow your coverage later. The choice of which compounded fortified antibiotics depends on the practice pattern for your hospital system, but we often use:
Vancomycin 25 mg / mL q1 hr
Tobramycin 15 mg / mL q1 hr
Some ophthalmologists pick a middle ground for less serious but still sight threatening infections and go with a 3rd generation fluoroquinolone q1-2 hrs.
We always culture these with bacterial plates, and strongly consider fungal / viral / parasitic etiologies as well. Never patch or apply a bandage contact lens in a patient with a suspected corneal ulcer.
Steroid eye drops for corneal ulcers are controversial. The SCUT (Steroids for Corneal Ulcers Trial) trial showed that steroids were not associated with worse complications, and may be better for the subset of central, severe corneal ulcers. Follow your individual hospital's practice pattern for using steroids.
***Note, two important and common corneal infections are from Herpes Simplex and Herpes Zoster. These are not discussed in this article***
Conclusions
Level 1: noninfectious abrasions can be treated with lubrication, cycloplegics, or a bandage contact lens.
Level 2: infectious but non vision threatening ulcers can be cultured, and can be treated with a strong antibiotic and close follow up.
Level 3: infectious AND vision threatening ulcers should always be cultured, and should be treated with q1h fortified antibiotics with daily follow up.
References
Srinivasan M, Mascarenhas J, Rajaraman R et al. Corticosteroids for bacterial keratitis: the Steroids for Corneal Ulcers Trial (SCUT). Archives of Ophthalmology 2012.
Weissman BA, Mondino BJ, Pettit TH et al. Corneal Ulcers Associated with Extended-Wear Soft Contact Lenses. American Journal of Ophthalmology 1984.