Angela Chen, B.S., Benjamin Lin, M.D., Shawn Lin, M.D.
*Note:* Technically, topography and tomography are different imaging modalities (explained below). However, both are colloquially referred to as topography. Except for our section differentiating between them, we will also refer to both as topography.
In this article, we will review what corneal topography and tomography are, why they are useful, and how to interpret a normal Pentacam scan. We will also review 5 clinical uses for topography that will prepare you well for cornea clinic.
Topography vs. Tomography
This is the technical distinction between topography and tomography:
1) Corneal topography is a non-invasive imaging technique for mapping the surface curvature and shape of the anterior corneal surface.
How it's done:

Placido disc (topography): Evaluates the cornea based on the reflection of concentric rings (mires).

Widely spaced rings = flatter
Closely spaced rings = steeper

Devices: Orbscan, Atlas, NIDEK OPD
2) Corneal tomography computes a 3-D image of the cornea and assesses the entire cornea, anterior and posterior surfaces. Nowadays, tomography is most commonly used.
How it's done:

Scheimpflug imaging (tomography): Evaluates the cornea using a camera that captures cross-sections of the cornea as it rotates

Devices: Pentacam, Galilei, Sirius
Utility
Management of astigmatism in cataract surgery and after corneal transplant
Screening candidates for refractive surgery by identifying irregular astigmatism and helping estimate postoperative ectasia risk
Detection of ectatic disorders such as keratoconus, pellucid marginal degeneration and post-LASIK ectasia
Determining visual significance of corneal and conjunctival lesions, such as pterygia and Salzmann's nodular degeneration
Guiding suture removal and placement of corneal relaxing incisions
Basic Principles
Colored Maps: You will see a rainbow of colors on every topographic map. These range from warm colors (red, orange, yellow), to neutrals (green) to cool colors (blue, purple). On our representative Pentacam images below, you will see four different types of maps.
1) Axial map (top left)

Useful for assessing irregularity of astigmatism and planning suture removal after PK

Warm

colors = steep (think "steeping warm tea")

Cool

colors = flat

2) Corneal thickness, aka pachymetry map (bottom left)

Displays distribution of corneal thicknesses across the entire measured area.

Warm

colors = thin (think "in the heat wear thinner layers")
Cool colors = thick (think "in the cold wear thicker layers")

3) Anterior elevation map (top right)

Useful for assessing regularity of astigmatism, location of astigmatism and surgical planning for AK, toric planning
Warmer colors indicate where the cornea is elevated above the best fit sphere; cooler colors indicate where the cornea is depressed below the best fit sphere

4) Posterior elevation map (bottom right)

Useful for identifying forme fruste keratoconus
Warmer colors indicate where the cornea is elevated above the best fit sphere; cooler colors indicate where the cornea is depressed below the best fit sphere
Normal Cornea
Expected topography: Progressive flattening from center to the periphery by 2-4D, with the nasal area flattening more than the temporal area.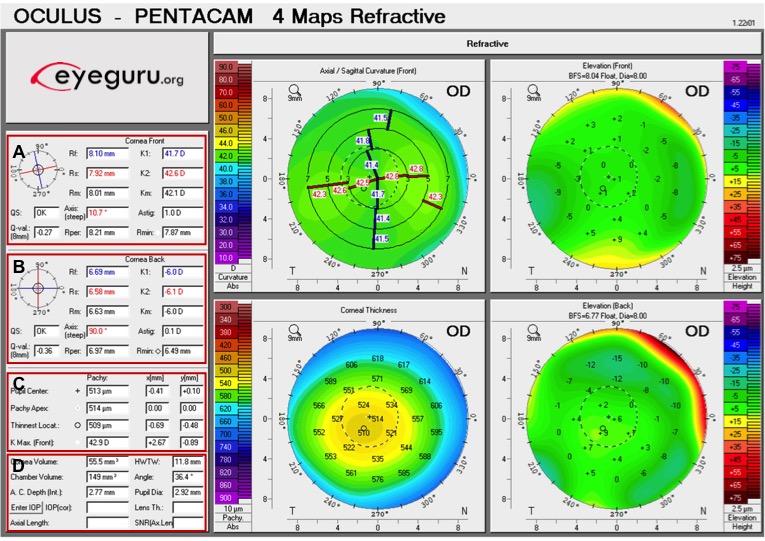 Interpreting Pentacam Values1
A) Anterior corneal values
K1, K2, Km: The two major meridians (K1, K2), determined using the 3mm ring, are 90 degrees from each other. Red corresponds with the steep meridian whereas blue corresponds with the flat meridian. Km is the average of K1 and K2
Rf, Rs, Rm: Radii corresponding with K1, K2, and Km, respectively
QS: Quality score (I.e. "OK," "Data gaps," "Fix," "Model") may alert the technician to retake the exam due to suspect quality
Q-val: Describes the corneal shape factor, or eccentricity of the cornea. The ideal value is -0.26.

More negative values may suggest keratoconus or hyperopic correction whereas positive values may suggest myopic correction.

Axis: The meridian that requires no cylinder power to correct astigmatism
Astig: The central corneal astigmatism
Rper: Average radius of curvature between the 6mm and 9mm zone center
Rmin: Smallest radius of curvature in entire field measurement

Rmin may be elevated in keratoconus
B) Posterior corneal values
The same variables described for the front of the cornea are used to characterize the back of the cornea.
C) Pupil center: Calculated by finding the center point based on edge detection on the iris then the distance is calculated in mm
Pachy apex: Corneal thickness at the apex
Thinnest Location: Thinnest point over anterior corneal surface
K Max (Front): Steepest point over anterior corneal surface
D) Values used in IOL calculations (out of scope of this article)
5 Clinical Uses
1) Keratoconus
Topographic diagnosis of keratoconus is suggested by:
High central corneal power
Large difference between the power of the corneal apex and periphery
Differences in steepness between the two corneas of a given patient.
Expected topography: inferior steepening on anterior axial map and corresponding thinning on pachymetry map. There are many systems to grade keratoconus. Here are some examples of various systems, but these are not necessarily the only criteria by which to rule in or rule out keratoconus.
Cutoff points for Keratoconus
Central K2
Normal <47.2D

Forme Fruste Keratoconus 47.2-48.7D

Keratoconus >48.7D

Inferior-superior asymmetry index
>1.2D
Astigmatism
>2.5D
Orbscan II topography posterior elevation3
≥35µm subclinical keratoconus

≥51µm keratoconus

Orbscan II topography anterior elevation3
≥16µm subclinical keratoconus

≥19µm keratoconus

Pentacam Scheimpflug corneal tomography posterior elevation4
Normal ≤+17µm

Suspicious +18µm to +20µm

Risky >+20µm

Pentacam Scheimpflug corneal tomography anterior elevation3
Normal ≤+12µm

Suspicious +13µm to +15µm

Risky >+15µm
2) Pellucid marginal corneal degeneration
Expected topography: against-the-rule "crab claw" or "butterfly" pattern on axial map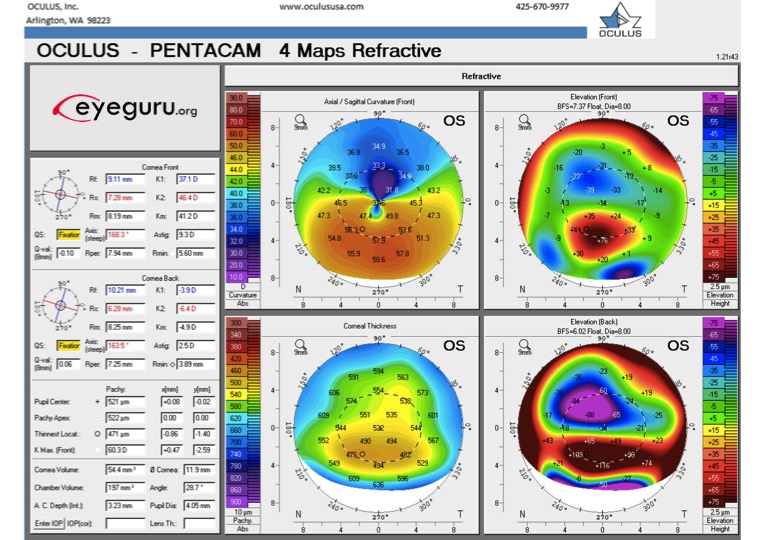 3) Astigmatism
Regular astigmatism: uniform steepening along a single corneal meridian that can be fully corrected with a cylindrical lens (BCVA of 20/20 or better)
Expected topography: symmetric "bow-tie" along a single meridian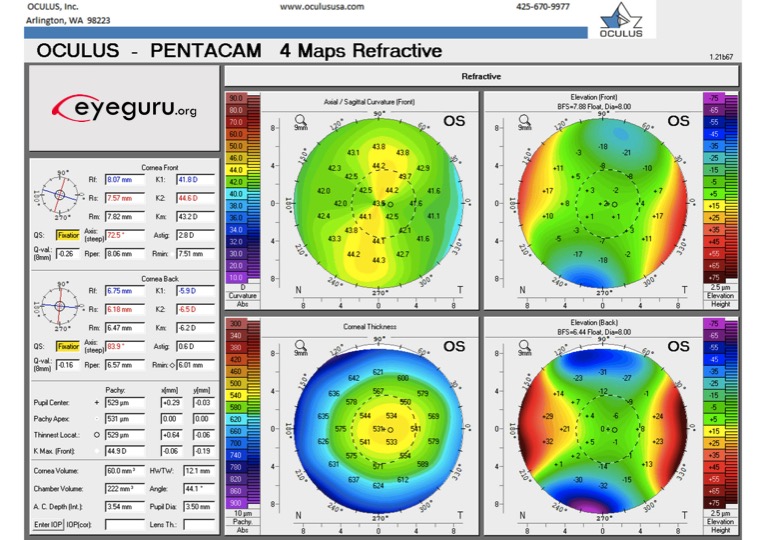 Irregular astigmatism: nonuniform steepening that cannot be corrected by cylindrical lens (BCVA of 20/50 or worse due to irregular astigmatism).
Expected topography: steep and flat axes less or more than 90 degrees apart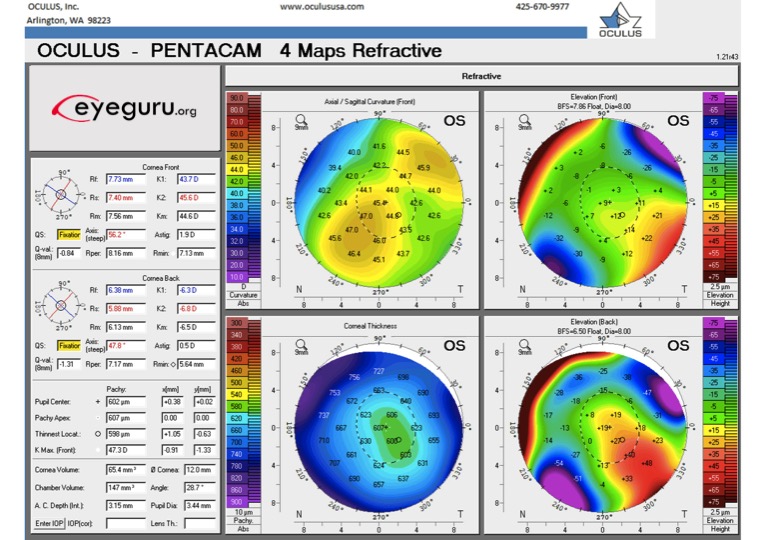 With-the rule astigmatism: Steeper in the vertical meridian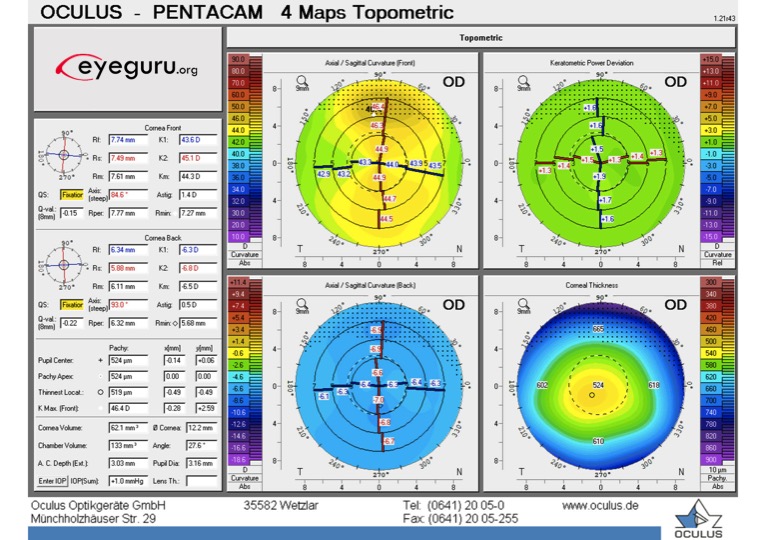 Against-the-rule astigmatism: Steeper in the horizontal meridian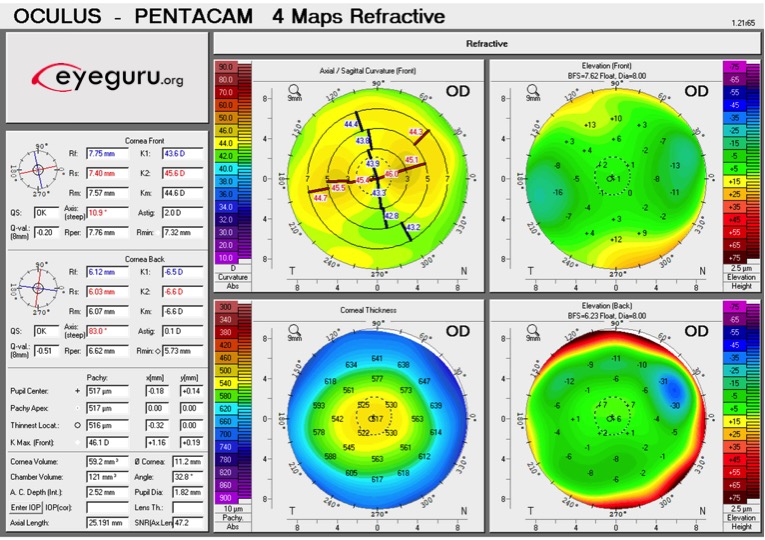 4) Refractive error
Myopia is associated with steeper central corneal curvature
Hyperopia is associated with flatter central corneal curvature
However, these are not hard and fast rules, as axial length plays a big role in the overall myopia/hyperopia of the eye.
5) Refractive surgery
Preoperative assessment should be performed to rule out ectactic (e.g. irregular) patterns, which occur in disorders like keratoconus and pellucid marginal degeneration. If an ectactic disorder is suspected, LASIK is not recommended.
Refractive surgery itself can induce corneal ectasia. In preoperative planning, percent tissue altered (PTA) is used to estimate the risk of inducing a cornea ectasia. Generally, a PTA < 40% is accepted as a lower risk in a normal eye.5
PTA = (FT + AD)/CCT
PTA: percent tissue altered; FT: flap thickness; AD: ablation depth; CCT: preoperative central corneal thickness
Postoperative assessment is performed to evaluate any dioptric changes at the corneal level and to rule out decentered or incomplete ablation, ectasia or other changes.
Quick Tips for Clinic
Choose which post-keratoplasty suture to remove based on the

steep

axis of astigmatism on topography. Removing sutures along the

steep

axis leads to corneal flattening.
Candidates for Toric IOL will have regular symmetrical astigmatism, appearing as a "bowtie" or "figure-eight" pattern on topography (can be with or against-the-rule)
Keratoconus or pellucid eyes will have an irregular astigmatism, often with inferior steepening and corneal thinning,
Review Questions
1) Based on this patient's topography, are they a candidate for Toric IOL?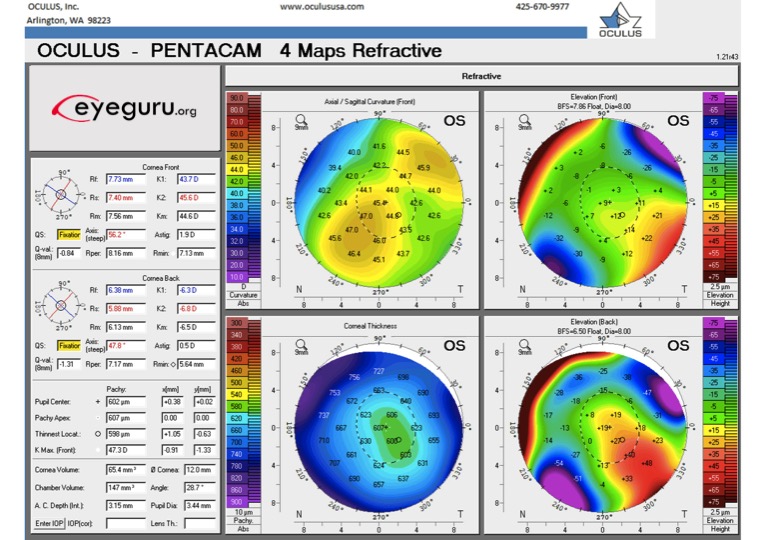 Answer: No, the topography shows irregular astigmatism. Only patients with regular astigmatism are good candidates for Toric IOLs.
2) Based on this patient's topography post-LASIK, what refractive error did they have prior to LASIK?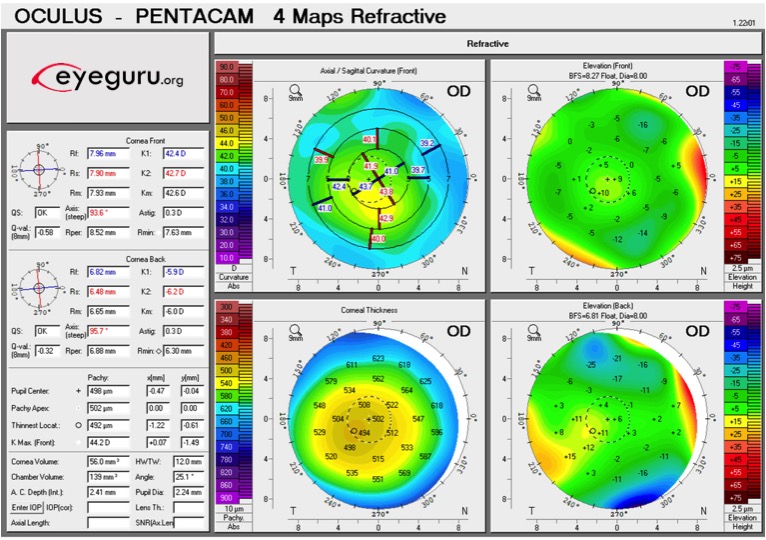 Answer: This post-LASIK topography demonstrates central corneal steepening ("steeping warm tea" reminds us that warmer colors correspond with steeper corneal curvature). Therefore, the patient was being corrected for hyperopia.
References:
Agarwal A, Agarwal A, Jacob S. Dr. Agarwal's Textbook on Corneal Topography (Including Pentacam and Anterior Segment OCT), 2/E. Second ed. New Delhi, India: Jaypee Brothers Medical Publishers (P) Ltd; 2010.
Rabinowitz YS. Videokeratographic indices to aid in screening for keratoconus. J Refract Surg. 1995;11(5):371-9.
Jafarinasab MR, Shirzadeh E, Feizi S, Karimian F, Akaberi A, Hasanpour H. Sensitivity and specificity of posterior and anterior corneal elevation measured by orbscan in diagnosis of clinical and subclinical keratoconus. J Ophthalmic Vis Res. 2015;10(1):10-15.
Tanuj D NM, Tarun A. New Investigations in Ophthalmology; 2017.
Santhiago MR, Smadja D, Gomes BF, Mello GR, Monteiro ML, Wilson SE, et al. Association between the percent tissue altered and post-laser in situ keratomileusis ectasia in eyes with normal preoperative topography. Am J Ophthalmol. 2014;158(1):87-95.e1.