This is one of the most common complaints from patients in the eye clinic. In this post, we'll discuss the major causes of dry eye, which cover 80-90% of what you will see day to day in the clinic. There are many wild and esoteric causes of dry eye covered in BCSC, but here is what you really need to know as a beginning resident:
Etiology
Dry eye can be conceptualized into two major categories: (1) evaporative dry eye (mostly due to meibomian gland dysfunction) and (2) aqueous tear deficiency. Of these, evaporative dry is much more common. Here are the high yield causes in each group.
Evaporative Dry Eye (90%)
Blepharitis/Meibomian Gland Dysfunction: Tears are essentially composed of oil and water (and some mucin), and it's the superificial oil layer that prevents quick evaporation. Up to 86% of dry eye patients have some degree of meibomian (oil) gland plugging [1]. These patients often present with excess tearing because the tears they do make contain very little oil and evaporate quickly. Read on for treatment.

Evaporative: Simply put, dry air leads to dry eye. This is especially problematic as blinking decreases while doing focused work on the computer or staring at a cell phone.

Anatomic: Ectropion, Bell's palsy, exposure keratopathy, and prior cosmetic surgery (common here at UCLA, as we are <5 miles from the epicenter of Beverly Hills) all contribute to dry eye.
Aqueous Tear Deficiency (10%)
Systemic, Anatomic, Infiltrative: Sjogren's, SLE, post-LASIK, systemic diseases and drugs. This is a much smaller percentage of the population. You can read about these in BCSC as you progress through your first year.
Treatments
Treatment can be conceptualized as a staged progression. This staging system is based on the Dry Eye Workshop, an international consortium of dry eye experts.
We estimate that 80-90% of the general population initially seen for dry eye have symptoms mostly controlled through Level 1 measures, but these are often overlooked because they take time and effort!
Level 1
Education: Absolutely the most important step in dry eye treatment is teaching the patient about the particular cause of their dry eye. I've had many patients who tell me they have tried all sorts of dry eye treatments, but have only tried warm compresses and lid hygiene for a few days. The most important thing patients must understand with dry eye is that it will not simply go away over time. It is a chronic condition and will require lubrication, warm compresses or lid hygiene for the rest of their lives in many cases.

Lubrication: Patients can use artificial tears up to 4-6 times/day if they contain preservative and up to every hour if they're preservative free. The main difference is that preservatives contained in AFTs can be irritating to the eye if used more than 4 times a day. At night time, lubricating ointment works well to keep the cornea moist and help heal the microdamage caused during the day when the eyes are open.

Encourage patients to use AFTs proactively before their eyes feel dry. Dry eye is a cyclical phenomenon – less tear volume increases the salt content of the tears, which irritates the cornea, causes more inflammation, and leads to more dry eye symptomology.

Warm Compresses / Lid Hygiene: Up to 86% of people with dry eye will have meibomian gland (oil gland) plugging, which leads to a faster rate of tear evaporation. This means that we can do a great service to our patients by educating them on using warm compresses to help liquefy the clotted oil sitting in meibomian glands and improving flow. We recommend 3-5 times/day for bad cases, or once a day for mild cases. In addition, we recommend keeping a bottle of baby shampoo in the shower to wash the eyelashes. These measures, along with lubrication, can make a big difference in patients' symptoms.
Antibiotics: If bacterial blepharitis is suspected as the etiology of dry eye, antibiotic ointments (e.g. erythromycin) and oral antibiotics (e.g. doxycycline) can decrease inflammation and help with tear film stability.
Level 2
Punctal plugs: If lubrication doesn't work, we can artificially occlude the puncta with either collagen (breaks down over time) or plastic (permanent) plugs. We say permanent because the plugs don't degrade. However, they often fall out, but you can put in a bigger size next time or perform cautery if the plugs were effective. The plugs slow the normal drainage of tears so that patient retain the tears they do make. Plug the lower puncta bilaterally as first line treatment, then the uppers if insufficient.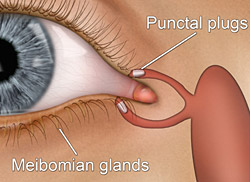 Level 3
Restasis: Cyclosporine is an immunosuppressant that modulates the inflammatory component of dry eye disease. Inflammation can happen due to decreased aqueous production and hypertonicity of the tears, especially in aqueous tear deficiency.

Autologous serum tears: Sounds pretty crazy, but you can get the patient's blood spun down in a specialty compounding pharmacy to create serum drops which provide another option for severe dry eye patients who cannot tolerate drops or other treatments

.
Level 4
Surgery – tarsorrhaphy: In very bad cases of dry eye, the eyelids can be partially or fully closed with sutures to allow the corneal surface to heal. This can be reopened at a later time without long-term consequences

.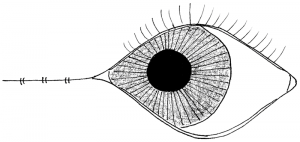 There you have it! You should now be able to tackle the majority of dry eye complaints coming your way and use this conceptualization as a framework for further learning.
Conclusion
Etiologies: Dry eye is a chronic condition, and can be separated into evaporative dry eye and aqueous deficiency.
Treatment: There is a staged progression for dry eye: artificial tears / warm compresses -> punctal plugs -> restasis -> tarsorrhaphy.
References
Lemp MA, Crews LA, Bron AJ et al. Distribution of aqueous-deficient and evaporative dry eye in a clinic-based patient cohort: a retrospective study. Cornea 2012.
2007 Report of the International Dry Eye WorkShop (DEWS). Ocular Surface 2007