The "sneak thief of sight", this disease affects nearly 10% of individuals over 80, and is probably the most chronic, recurring disease in all of ophthalmology. Once diagnosed, a patient requires lifetime monitoring and treatment.
Here we will cover the basics of glaucoma. You will see the nuance later on, but this is the high-yield framework to help you get oriented.
Diagnosis
When evaluating a brand new glaucoma patient, there are a few essential pieces of data to gather, and some other tests which are "nice to have" but are becoming the standard of care.
Essentials
IOP (intraocular pressure): Average IOP in the population is 16.5 with a range from 11-21.
Nerve Appearance: Though some still use C/D (cup to disk) ratio, many glaucoma specialists would prefer you describe the rim appearance because they feel C/D ratio is subjective and can be misleading.
Visual Field: HVF 24-2 is what we start with. Interpretation is described in our "How to interpret visual fields" article.
Central Corneal Thickness (CCT):

The average CCT is 540 μm to 560 μm
Thinner corneas tend to UNDERestimate the true pressure
Thicker corneas tend to OVERestimate the true pressure
Why does this occur?

Pressure of fluid inside eye + rigidity (thickness) of the eyeball = IOP

Gonioscopy: This is key to differentiating between angle closure glaucoma and open angle glaucoma.
Family History: Glaucoma has a strong genetic component.
Race: Classically affects individuals of African descent and certain other small population groups (Inuits).
Nice to Have
Disc photos: To follow the nerve more objectively.
Optic nerve OCT: Allows you to objectively follow several calculated anatomic parameters like retinal nerve fiber layer (RNFL) thickness and macular thickness.
Basic Management
There is only one proven treatment for glaucoma and that is to lower the eye pressure. There are 3 primary ways to do this: eye drops, glaucoma lasers and glaucoma surgery. The order in which these are utilized varies depending on the patient demographics, severity or type of glaucoma, opinions of physicians, and practice patterns. These complex topics are outside of the scope of this article.
Level 1: Eye drops
Each clinic you work at will have on formulary a selection of generic / branded drops that are commonly prescribed. Each practitioner will have his / her favorite combinations. However, there are general guidelines 90% of people follow:
First Line Drops
Prostaglandin analogs (PGA: latanoprost, travoprost, bimatoprost, tafluprost) are first line unless contraindicated. They can generally lower IOP by 30% and are well tolerated. These drops have teal / green caps and are used once nightly.
Fun fact: long ago, ophthalmologists noted that glaucoma patients had longer eyelashes, and capitalized on the eyelash accelerating property of prostaglandins to create Lattise (bimatoprost).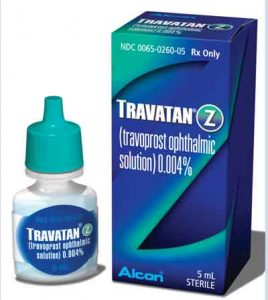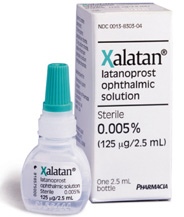 Second Line Drops
Beta blockers (timolol, levobunolol) are also great medications, but two key contraindications are asthma and bradycardia. There are more contraindications, but those two are most important. Patients with COPD should be switched to betaxolol, a selective β-1 blocker, just like in the case of systemic beta blockers. Pure beta blockers have yellow caps and are used twice a day.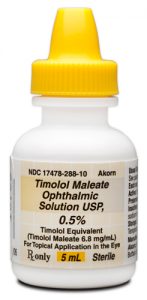 Combination drops are a common second drop you will see patients on. For example: Cosopt (dorzolamide + timolol) or Combigan (brimonidine + timolol). Timolol is a common drop to pair with the other classes of medications. In fact, combination drops with timolol specifically have dark blue caps and are used twice daily.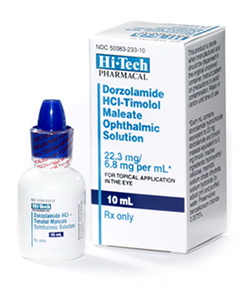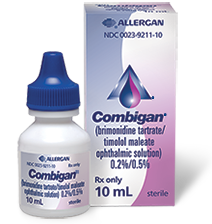 Third Line Drops
Alpha agonists (brimonidine) are added to the regimen, but usually are used after beta blockers due to a fairly high (10-15%) incidence of conjunctival and skin allergic reaction. These have purple caps and are dosed BID to TID.
Carbonic anhydrase inhibitors (dorzolamide, brinzolamide) are great drops, but are sulfa based, so this important allergy should be assessed before starting the drop. These have orange caps and are dosed BID to TID.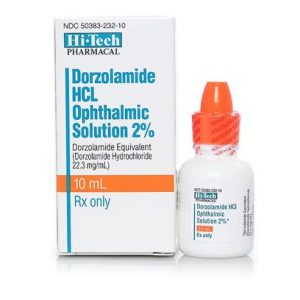 If you are left confused about eye drop cap colors, take a look at our article describing all of the different drop colors.
Maximum drop therapy
When someone is on maximal medication therapy (aka MMT), they are usually on:
Prostaglandin Analog (e.g. latanoprost) once a night
Combination Drop (e.g. Cosopt [dorzomalide + timolol]) twice a day
Alpha Agonist (e.g. brimonidine) three times a day
That's 6 drops a day, dosed qHS, BID, and TID, x 2 eyes = 12 drops a day! You can see why this is considered MMT (maximal medication therapy), it's all very hard to keep track of for the patient, and studies have shown medication compliance is rarely better than 60-70%.
Level 2: Glaucoma Laser
Glaucoma lasers are helpful in a number of different contexts. The two major glaucoma laser procedures are argon laser trabeculoplasty (ALT) and its newer variant: selective laser trabeculoplasty (SLT).
ALT is an older technique which uses higher power, focused energy, and is generally considered more destructive and not repeatable. Nowadays, many people perform SLT, which still targets the trabecular meshwork but uses diffuse energy and less power. While no one understands the true mechanism of these lasers, they are thought to cause remodeling and increased trabecular meshwork outflow. SLT is repeatable, and the effect lasts ~2+ years depending on what study you read. It's a GREAT option for folks who are drop noncompliant.
The most important practice tips are: 1) glaucoma lasers can be first line therapy even before drops; 2) they can be added on top of drop therapy; 3) they can even be done after trabeculectomy; and 4) they can be repeated if using SLT (but not ALT). You can see that glaucoma lasers are very versatile, although opinions do vary about their effectiveness.
Level 3: Surgery
Trabeculectomy (Trab)
This is the creation of a partial thickness flap in the sclera next to the limbus that acts as a trapdoor allowing outflow of aqueous humor. The outflow tract is covered by conjunctiva, creating a "bleb". We want to see a nice, full, elevated bleb. During surgery, we place a few sutures to ensure that the eye doesn't depressurize (hypotony). We also treat the surrounding conjunctiva with the antifibrotic agent mitomycin C. During post op month 1, we can selectively cut these sutures with a laser in order to fine tune the outflow of fluid. The main complications of trabs are hypotony and infection. You'll hear many people talk about the continued lifelong risk of endophthalmitis with trabs, rather than during just the acute / subacute postoperative period with other intraocular surgeries. However, these infections are rare.
Tube
If the patient has a ratty (scarred) conjunctiva from prior eye surgery, has had failed trabs, or has uveitic glaucoma, we can place a tube which inserts through the sclera into the anterior chamber. These tubes have a plate which is implanted beneath the conjunctiva and helps maintain patency after the scarring / healing process is complete.
There are two types of tubes in the United States: Ahmed and Baerveldt. The main difference between these two is that the Ahmed has a valve (IOP doesn't drop below 8) and the Baerveldt does not. Instead, the surgeon placing the Baerveldt "ties-off" the tube with a dissolvable suture so that the tube actually starts working in about 6-8 weeks. Though this strategy prevents immediate post-op hypotony, Baerveldt patients often need to be continued on drops after the surgery until the tube "opens-up."
The Baerveldt implant has been shown in studies to have lower IOP but higher rates of hypotony. Most attendings will choose Ahmed for cases when immediate IOP reduction is necessary and Baerveldt if IOP reduction is more of a long-term goal.
High Yield Glaucoma Trials
Ocular Hypertension Treatment Study (OHTS)
Evaluated whether lowering IOP in ocular hypertensive patients could decrease the risk of developing glaucoma. About 10-20% of ocular hypertension patients eventually develop glaucoma. The study found that treating ocular hypertension can help decrease the risk of development of glaucoma. At 5 years, it decreased glaucoma development by 60% and at 10 years it reduced it by 50%. The greatest risk reduction happened in the group who was already highest at risk.
Collaborative Initial Glaucoma Treatment Study (CIGTS)
Evaluated whether initial trabeculectomy or initial medical therapy was better for treating glaucoma. Overall, either surgery or drops can be used to effectively manage the disease. Surgically treated patients had consistently lower IOPs. Patients with advanced glaucoma at presentation may benefit from earlier incisional surgery. Depression and fear of blindness are common among glaucoma patients.
Early Manifest Glaucoma Trial (EMGT)
Compared observation vs lowering IOP for initial management of glaucoma. They found that IOP lowering is beneficial even in early disease. Each 1 mm Hg decrease led to reduced risk of progression by 10%.
Collaborative Normal-Tension Glaucoma Study (CNTGS)
Evaluated the role of IOP lowering in normal tension glaucoma (NTG). IOP lowering slowed progression in NTG. Some patients with NTG are non-progressive. Cataract development was a confounder in the trabeculectomy group.
Advanced Glaucoma Intervention Study (AGIS)
Compared outcomes of the sequence of use of ALT and trabeculectomy: ALT-trabeculectomy-trabeculectomy (ATT) vs trabeculectomy-ALT-trabeculectomy (TAT) for the management of advanced glaucoma. In this study, African Americans benefited more from the ATT sequence.
Conclusions
Glaucoma is diagnosed and managed with a combination of various parameters: IOP, nerve appearance, visual field, CCT, gonioscopy, OCT RNFL, etc.
The only evidence-based method to slow the progression of glaucoma is to lower the pressure.
Medication is added in a stepwise approach. Maximal medical therapy is usually prostaglandin analogue qhs, combination drop BID, alpha agonist TID.
Laser can be used as a supplement to drops.
Patients with uncontrolled eye pressure on drops / laser require surgery.
References
Kholdebarin R, Campbell RJ, Jin YP et al. Multicenter study of compliance and drop administration in glaucoma.