Want to accelerate your learning curve? Train your brain with our OCT Mastery Trainer.
Listed here are 80-90% of the OCTs that you are going to be seeing. Most OCT is used for imaging the retina, so that's what we'll focus on. It's revolutionized the field of retina, helped us revise the pathophysiology of multiple diseases based on OCT evidence, and is a standard for the treatment of multiple macular diseases.
About OCT
Optical coherence tomography is a non-contact, high-resolution, in vivo imaging modality. It produces cross-sectional tomographic images just like ultrasound. Decreased OCT image quality can be attributable to cataracts which block light, patient motion artifact, or any other media opacity.
View of the normal retina with OCT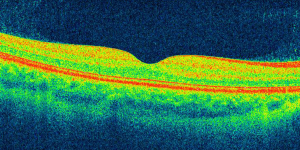 The macular OCT can be used to evaluate the premacular vitreous, macula, and choroid. We'll look at the OCT through a number of common diseases.
Below, we've highlighted a few diseases with their common OCT findings:
View of the retinal pathologies with OCT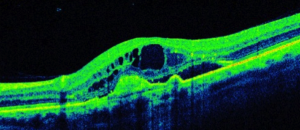 Wet AMD leads to intraretinal fluid (IRF) and subretinal fluid (SRF) accumulation. The choroidal neovascular membrane (CNV) can be visualized.
This is an OCT of a pigment epithelial detachment (PED) in wet AMD with some adjacent subretinal fluid (SRF) and an overlying area of focal intraretinal fluid (IRF).
Drusen: Lumps of deposits under the RPE.
Geographic atrophy: Atrophy of the outer retinal layers with OCT signal penetrating deeper into the choroid.
Another example of wet AMD: Eyes show fibrovascular pigment epithelial detachments (PEDs), neovascular membranes and subretinal fibrosis along with fluid.
Diabetic macular edema (DME)
This is classic DME with cystoid intraretinal fluid pockets in the outer plexiform layer (OPL). Subretinal fluid (SRF), which is present in severe DME, is also seen here.
Retinal vein occlusions (RVOs)
This central retinal vein occlusion (CRVO) causes severe cystoid macular edema (CME). There isn't a clear differentiation between CME from CRVOs and CME from diabetic retinopathy on OCT, but the fundus appearance is obvious.
In comparison to CRVO, this branch retinal vein occlusion (BRVO) shows retinal edema on the temporal side of the macula, which is a more common finding in BRVO. You know it's the temporal side because the nasal side of the OCT has a thicker retinal nerve fiber layer (RNFL).
Here is a BRVO with central macular edema. Chronic RVOs lead to inner retinal atrophy, which is also characteristic of the disease.
Central serous chorioretinopathy (CSR)
CSR has a central SRF collection, no intraretinal fluid (IRF), and a thickened choroid.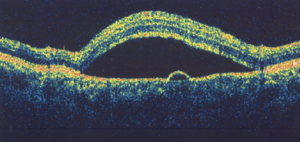 With CSR, there can often be a component of pigment epithelial detachment (PED) inside the area of serous detachment. These PEDs can be quite large.
This example of CSR displays a very thick choroid.
Epiretinal membrane (ERM)
A dense epiretinal membrane (ERM) can be seen here leading to inner retinal wrinkling and distortion of the foveal contour. A severe ERM can also be associated with cystoid macular edema.
A mild-moderate ERM.
Macular Hole (MH)
Full-thickness macular holes (FTMH) are very easy to diagnose with OCT. They are always a foveal, full-thickness defect that can have associated cystoid macular edema. Here, there is traction from the posterior hyaloid membrane that opens the hole in a "can opener" effect.
Here, the posterior hyaloid has separated, leaving a central operculum and a full thickness defect.
Retinitis pigmentosa (RP)
RP is a rod-cone dystrophy. The photoreceptor layer is completely lost except for a central island. Along with it comes thinning of the outer nuclear layer (ONL), which is where the cell bodies of the photoreceptor cells reside.
Vision loss from RP can also come from CME (cystoid macular edema) which is something to keep in mind for your RP patients. You can treat this with topical dorzolamide.
Retinal detachment
A retinal detachment is usually diagnosed clinically and with exam, but shallow macular detachments are sometimes hard to appreciate early on. If any doubt, a retinal OCT can demonstrate a detachment easily.
Optic nerve OCT
Optic nerve and nerve fiber layer OCT helps in the management of glaucoma. The OCT machines provide automated, serial analysis of the nerve fiber layer thickness, cup-to-disc ratio, and other measurements. They can compare the patient's optic nerve and nerve fiber measurements against age-matched normal patients to show areas of loss. These analyses have become an important adjunct to visual field testing in the treatment of glaucoma. It can also be used to track optic nerve edema.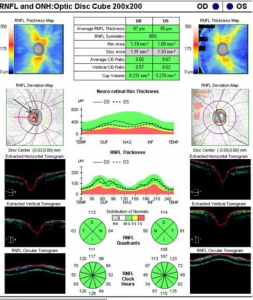 Anterior segment OCT (AS-OCT)
Anterior segment OCT is most commonly used to evaluate the iridocorneal angle, such as for patients with narrow angles. It can also be used for corneal biometry to measure the thickness and steepness of the cornea.
AS-OCT of an eye with narrow angles.
Conclusion
OCT is a non-contact, cross-sectional imaging modality providing high-resolution images of the macula.
Summary of the diseases in this article:

Wet age-related macular degeneration (AMD)

Intraretinal fluid (IRF) and subretinal fluid (SRF) accumulation
Pigment epithelial detachments (PEDs)

Diabetic macular edema (DME)

Cystoid macular edema (CME), intraretinal fluid pockets in the outer plexiform layer
SRF (subretinal fluid) if severe

Central retinal vein occlusions (CRVO)

Severe CME

Branched retinal vein occlusions (BRVO)

Retinal edema on

temporal

side of macula
Chronic RVOs lead to inner retinal atrophy, which is characteristic of the disease

Central serous chorioretinopathy (CSR)

Central SRF (subretinal fluid) collection, no IRF (intraretinal fluid), and a thickened choroid
Can have PED (pigment epithelial detachment) inside the area of SRF (subretinal fluid) accumulation

Epiretinal membrane (ERM)

Inner wrinkling and distortion of foveal contour
Cystoid macular edema if severe

Macular hole

Foveal, full-thickness defect
Can have associated

Epiretinal membrane (ERM)

Inner retinal wrinkling and distortion of foveal contour
Cystoid macular edema if severe

Macular hole

Foveal, full-thickness defect
Can have associated CME (cystoid macular edema)

Retinitis Pigmentosa

Loss of photoreceptor layer, with sparing of a central island
Thinning of outer nuclear layer (ONL)
CME can be present (cystoid macular edema)

Retinal detachment

Usually diagnosed clinically and with exam, but OCT can be used to check shallow macular detachments