Erik Massenzio, B.A., David Xu, M.D.
Uveitis is another standard condition you will need to be familiar with as a beginning resident. Uveitis can be a difficult diagnosis to understand at first given the multitude of different etiologies which can cause it. Don't worry though; this pathology framework will provide the absolute essentials necessary to work through most uveitis cases in clinic.
What is uveitis?
Uveitis is inflammation of the uveal tract, which is the vascular layer of the eye. This comprises the iris, ciliary body, and choroid. While "uveitis" technically implies inflammation of just the uveal tract, in practice it can describe many forms of inflammation of the uvea and surrounding anatomy such as the retina, retinal vessels or vitreous.1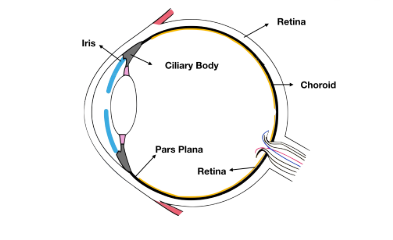 Describing uveitis can be a difficult affair for the beginner, but it is important to document carefully and accurately. Fortunately, we have couple of classification systems to help us get started:
Classification based on location
This first classification scheme was created in 1987 by the International Uveitis Study Group (IUSG). It classifies uveitis anatomically:
Anterior – primarily involvement of the anterior chamber. This includes iritis (iris inflammation), anterior cyclitis (pars plicata of ciliary body inflammation), and iridocyclitis (iris and pars plicata of ciliary body inflammation).
Intermediate – primarily involvement of the vitreous.
Posterior – primarily involvement of the retina (retinitis), choroid (choroiditis), or both (chorioretinitis), with possible involvement of the optic nerve (neuroretinitis). The location is further described with "focal," "multifocal," or "diffuse."
Panuveitis – all structures of the uveal tract are inflamed.
Classification based on duration
The SUN Working Group also classifies uveitis based on the timing of inflammation. Onset is described as "sudden" or "insidious." Duration is "limited" if less than 3 months, or "persistent" if greater.2
Acute uveitis – sudden onset uveitis which resolves within 3 months.
Chronic uveitis – persistent uveitis with relapse less than 3 months after discontinuation of treatment.
Recurrent uveitis – repeated episodes of uveitis spaced with inactive untreated periods.
Classification based on etiology
In 2009 the IUSG published this classification scheme based on etiology.3
Infectious uveitis – further subdivided into "bacterial", "viral", "fungal", "parasitic", and "others"
Noninfectious uveitis – further subdivided into "known systemic associations" or "no known systemic associations"
Masquerade – further divided into "neoplastic" or "nonneoplastic"
Clinical exam features of uveitis
These are the main exam findings you should be looking for when evaluating uveitis. Below we have collected some images of these features of uveitis.
Anterior findings
Image from Ji, Y., Jiang, C., Ji, J., Luo, Y., Jiang, Y., & Lu, Y. (2015)

Anterior chamber cells4

These are floating inflammatory cells and they are a reliable indicator of disease activity. Being able to grade cell is an important exam technique.

Image from "Anterior Uveitis – Pearls and Pitfalls, 2017"

Anterior chamber flare5

Another very important uveitis exam finding. This refers to haziness in the anterior chamber caused by protein which leaked from the uvea due to breakdown of the blood-aqueous barrier.

Image from www.aao.org

Keratic precipitates6

Or, KP for short, are clumps of inflammatory cells stuck to the inside surface (endothelium) of the cornea. They can be key indicators of the type of uveitis. Small KP are characteristic of non-granulomatous disease, while medium to large, greasy, "mutton-fat" KP indicate granulomatous uveitis.

Image from Vislisel, J. 2014

Posterior synechiae7

This occurs when inflammatory adhesions develop between the lens capsule and iris margin, causing irregularity of the pupil shape. This is one reason we give patients mydriatics in uveitis; they keep the iris dilated, preventing formation of PS.

Image from Ahuja, R. 2006

Hypopyon8

A white exudate seen in the inferior AC, named hypopyon, can be a clue as to the type of uveitis. In HLA-B27 associated anterior uveitis, the high fibrin content of the hypopyon makes it sticky and slow to absorb. However, in Behcet disease, there is minimal fibrin and the hypopyon will shift with respect to the tilt of the patient's head.

Image from Stewart, R. M., Wishart, P. K., & Kaye, S. B., 2016

IOP9

This can be decreased with acute uveitis due to reduced aqueous secretion in the ciliary body. In some uveitic conditions, it can be increased due to inflammation or clogging of the trabecular meshwork such as in herpetic uveitis, lens-induced uveitis, Fuchs heterochromic iridocyclitis, or Posner-Schlossman syndrome. Finally, chronic uveitis can have high IOP due to damage to the trabecular meshwork. Patients taking steroid drops can get a steroid-induced IOP rise.
Posterior findings
Image from Chan, C. C., & Sen, H. N., 2013

Vitreous cells10

Just like AC cell, inflammatory cells can be seen in the anterior vitreous using the slit lamp. Vitreous cell and haze are present in intermediate and posterior uveitis, but mild anterior vit cell can be "spillover" from anterior uveitis and does not count as posterior disease.

Image from Wenkel, H. "Intermediate Uveitis, Snowballs"

Snowballs11

Focal white collections of immune cells and exudate floating in the vitreous present in intermediate and posterior uveitis. Usually found in the inferior vitreous.

Image from . Gross, J., 2012

Snowbanking12

A greyish-white plaque usually seen over the inferior ora serrata and pars plana. Can usually only be seen with the indirect and scleral depression. Usually indicative of intermediate uveitis.

Image from Gross, J and Raouf, S. 2016

Retinal vasculitis13

You can identify active retinal vasculitis by looking for yellow or grey-white patchy perivascular cuffing, +/- hemorrhage. Venous involvement is more common.

Image from National Eye Institute, National Institutes of Health, 2006

Retinitis14

Active lesions have whitish opacities with unclear borders due to edema which become more well-defined as inflammation resolves. Can be focal, multifocal, geographic, or diffuse.

Image from Whitcup, S. M., Fenton, R. M., Pluda, J. M., De Smet, M. D., Nussenblatt, R. B., & Chan, C. C., 1992

Choroiditis15

This can look different depending on the disease. Pictured here are round, yellow nodules deep to the retina. A trick is that choroiditis will not usually cause vitritis unless there is associated retinitis, which makes sense since the retina lies in between the choroid and the vitreous.
Grading uveitis
The SUN working group has developed a grading scale for cell and flare in uveitis. Below we cover the three grading schemes and how to properly evaluate them.16
Anterior Chamber Cell
Set your slit beam to 1mm by 1mm, maximal intensity. Use maximal magnification to estimate the number of floating cells in the slit beam field.
| | | |
| --- | --- | --- |
| Grade | Cells in field | Flare |
| 0 | <1 | None |
| Trace/0.5+ | 1-5 | |
| 1+ | 6-15 | Faint |
| 2+ | 16-25 | Moderate (iris and lens details clear) |
| 3+ | 26-50 | Marked (iris and lens details hazy) |
| 4+ | >50 | Intense (fibrin or plastic aqueous) |
Vitreous Cell and Haze
Vitreous cells are graded at the slit lamp in the looking at the anterior vitreous. Vitreous haze is assessed by looking at the retina using an indirect.
| | | |
| --- | --- | --- |
| Grade | Cells in Field | Haze |
| 0 | <1 | None |
| 0.5+ | 1-5 | |
| 1+ | 6-10 | Hazy nerve fiber layer |
| 2+ | 11-20 | Optic disc and vessels hazy |
| 3+ | 21-50 | Only disc visible |
| 4+ | >50 | Disc not visible |
Treatment of non-infectious uveitis
While infectious uveitis is treated by addressing the underlying infection, non-infectious uveitis is managed using anti-inflammatory and immune-suppressing interventions. Scheduling a follow up date with your patients depends on the severity of the disease, with some severe patients requiring follow up in 1 or 2 days. The common treatments are reviewed here for you to become familiar with:
Topical steroids – prednisolone 1% or dexamethasone 0.1% is most commonly used; common side effects include transient elevation of IOP and cataracts. Systemic side effects are rare.
Topical cycloplegic – these are used to prevent and break down posterior synechiae, and to decrease pain by decreasing pupillary and ciliary muscle spasm. The half-life of cycloplegics such as cyclopentolate (12-25 hours) or homatropine and atropine (10-14 day) vary greatly.
Periocular steroids – posterior sub-Tenon steroid injections are used in anterior uveitis complicated by cystoid macular edema, intermediate uveitis and posterior uveitis. Peak action is 4 weeks and can last up to 2-3 months.
Intravitreal steroids – Preservative free triamcinolone acetonide 2-4mg is used in intermediate and posterior uveitis.
Oral or IV steroids – Systemic steroids can be used in a number of situations including when the uveitis is bilateral, when topical drops are inadequate to control the disease, compliance is limited, short course prior to surgery, or where disease requires immunomodulators as a bridge to therapy. These use cases vary greatly depending on the uveitis being treated.
Immunomodulators – Methotrexate, mycophenolate mofetil, infliximab and other systemic immunomodulators can be used for uveitis. They can be broadly split in biologic (monoclonal antibodies) or non-biologic drugs. Again, they can be used a many situations including chronic uveitis, refractory uveitis, specific indications such as in juvenile idiopathic arthritis-associated uveitis, or if steroids are contraindicated.
Treatment plan for uveitis
Treatment of anterior uveitis typically consists of a topical cycloplegic and a topical steroid. The topical steroid should be dosed q1-6 hours depending on the severity of inflammation. Remember to taper as the inflammation improves! If there is lack of response, oral or periocular steroids can be considered.17
Treatment of posterior uveitis typically consists of oral or periocular steroids.
Common uveitic conditions
To give you an idea of what specific disease entities look like, below we have chosen a collection of common uveitis conditions that you should be familiar with. While you may not see all of these too frequently, they are important to know and be able to recognize.
Image from Michelson, G., "Iridocyclitis, Anterior Uveitis, Acute."

Acute iritis or iridocyclitis18

Inflammation of the iris or iris and pars plicata of the ciliary body. Symptoms can be preceded by mild ocular discomfort for a few days. Pain, photophobia, ciliary (perilimbal) injection, miosis, and watery discharge are all features of this most common form of uveitis.

Image from Luviano, D. "Anterior Uveitis with Hypopyon HLA 27 Ankylosing Spondylitis"

HLA-B27 associated acute anterior uveitis19

Both eyes can be affected at different times, but bilateral involvement rarely occurs simultaneously. Hypopyon in HLA-B27 associated AAU will have high fibrin content and will be slow to absorb.

Image from Vislisel, J., 2015

JIA associated chronic anterior uveitis20

Pictured left are KP in JIA CAU. Notice that the KP are small; this suggests non-granulomatous disease. JIA is the most common systemic disease associated with anterior uveitis. This chronic uveitis is dangerous because it is asymptomatic even during acute flares. Band keratopathy, cataract, glaucoma, and posterior synechiae are possible complications.

Traumatic iritis21

Caused by blunt injury to the eye usually. Traumatic iritis accounts for 20% of all iritis. This is why we tell patients to wear protective eye wear (among other reasons). The shape of the pupil becomes irregular due to synechiae which tack it down to the lens. Make sure to check for traumatic hyphema, as that has a separate management.

Image from Doan, A., 2008

Pars planitis22

The pars plana, in Latin "flat portion," is the part of the ciliary body that touches the peripheral retina at the ora serrata. You can tell this is pars planitis because of the characteristic snow banking of vitreous cells seen in the image. This is classified as an intermediate uveitis.

Image from Chan, C, 2015

White dot syndromes23

This is an umbrella term for several conditions typically occurring in young adult females with a viral prodrome. Patients usually experience painless monocular blurring. This idiopathic entity is characterized by multiple small grey-white patches which spare the fovea. Resolution occurs over the course of weeks with excellent recovery of visual acuity. No treatment needed usually.

Image from Michelson, G. "Varicella Zoster Virus – Acute Retinal Necrosis (ARN) in an HIV-infected Patient"

Acute retinal necrosis24

All of the previous conditions were non-infectious. Here, ARN is caused by HSV in younger individuals and VZV in older individuals. It presents with unilateral blurred vision and pain. The disease progresses rapidly unless treated with antivirals such as acyclovir, ganciclovir, or foscarnet. Vitrectomy may be required. If suspected, perform a vitreous or aqueous PCR assay for viral DNA.

Image from Venckus, T and Chin, E., 2014

CMV retinitis25

Usually only occurring in severely immunocompromised patients such as AIDS patients with CD4 count <50, patients presents with decreased vision in one eye that spreads to the other. Appearance is usually a white retinal infiltration with flame hemorrhages which follow the vasculature. This can help distinguish it from toxoplasmosis or HSV retinitis which do not follow the vasculature typically.

Image from Michelson, G., "Endophthalmitis, Acute, Purulent Hypopyon"

Endophthalmitis26

This term defines inflammation of all ocular tissues except the sclera. It can be caused by a multitude of different causes, but most commonly it is a complication of a surgical procedure. Patients present with blurred vision, red eye, and pain. The Endophthalmitis Vitrectomy Study showed that almost 25% of patients with endophthalmitis did not experience pain; so make sure to warn your patients to not let lack of pain prevent them from calling in!
References
Kanski, J. J., & Bowling, B. (2011). Clinical ophthalmology: a systematic approach. Elsevier Health Sciences.
Trusko, B., Thorne, J., Jabs, D., Belfort, R., Dick, A., Gangaputra, S., … & Rosenbaum, J. (2013). The standardization of uveitis nomenclature (sun) project. Methods of information in medicine, 52(03), 259-265.
Deschenes, J., Murray, P. I., Rao, N. A., & Nussenblatt, R. B. (2008). International Uveitis Study Group (IUSG) clinical classification of uveitis. Ocular immunology and inflammation, 16(1-2), 1-2.
Figure 1. Slit lamp photograph of patient 1. Cells were found in the anterior chamber. Reprinted from "Post-cataract endophthalmitis caused by multidrug-resistant Stenotrophomonas maltophilia: clinical features and risk factors," by Ji, Y., Jiang, C., Ji, J., Luo, Y., Jiang, Y., & Lu, Y. (2015). BMC ophthalmology, 15(1), 14.
Anterior Uveitis – Pearls and Pitfals. 2017. Retrieved from http://blog.clinicalmonster.com/2017/08/22/bored-review-anterior-uveitis/
Keratic Precipitates. Retrieved from https://www.aao.org/image/keratic-precipitates-3
Vislisel, J. 2014 Central posterior synechiae (CPS) in the setting of tubulointerstitial nephritis and uveitis syndrome (TINU). Retrieved from https://webeye.ophth.uiowa.edu/eyeforum/atlas/pages/Central-posterior-synechiae/index.htm
Ahuja, R. 2006. Hypopyon. Retrieved from https://en.wikipedia.org/wiki/Hypopyon
Figure. High corneal astigmatism after penetrating keratoplasty resulted in significant overestimation of the introcular pressure by Goldmann applanation tonometry. Reprinted from "Overestimation of Intraocular Pressure by Goldmann Applanation Tonometry Without Astigmatic Correction," by Stewart, R. M., Wishart, P. K., & Kaye, S. B. (2016). JAMA ophthalmology, 134(3), e153691-e153691.
Figure 1. Slit lamp biomicroscopy shows intense vitreous cells seen in sheets of a 62 year-old female patient with PCNSL/PVRL. Reprinted from "Current concepts in diagnosing and managing primary vitreoretinal (intraocular) lymphoma," by Chan, C. C., & Sen, H. N. (2013). Discovery medicine, 15(81), 93.
Wenkel, H. Intermediate Uveitis, Snowballs. Retrieved from https://www.atlasophthalmology.net/photo.jsf?node=5173&locale=en
Gross, J. 2012. Pars Plana Snowbank. Retrieved from https://imagebank.asrs.org/file/1170/pars-plana-snowbank
Gross, J and Raouf, S. 2016. Retinal Vasculitis Case Report. Retrieved from http://morancore.utah.edu/section-04-ophthalmic-pathology-intraocular-tumors/retinal-vasculitis/
National Eye Institute, National Institutes of Health. 2006. Fundus photograph-CMV retinitis. Retrieved from https://en.wikipedia.org/wiki/Retinitis#/media/File:Fundus_photograph-CMV_retinitis_EDA07.JPG
Figure 11-8. Fundus photograph of patient with AIDS and Pneumocystis carinii pneumonia shows multiple yellow deep choroidal lesions. Reprinted from "Pneumocystis carinii and Mycobacterium avium-intracellulare infection of the choroid," by Whitcup, S. M., Fenton, R. M., Pluda, J. M., De Smet, M. D., Nussenblatt, R. B., & Chan, C. C. (1992). Retina, 12, 331-331.
Bowling, B. (2015). Kanski's clinical ophthalmology: a systematic approach. Saunders Ltd.
Bagheri, N., Wajda, B., Calvo, C., & Durrani, A. (2016). The Wills eye manual: office and emergency room diagnosis and treatment of eye disease. Lippincott Williams & Wilkins.
Michelson, G. Iridocyclitis, Anterior Uveitis, Acute. Retrieved from https://www.atlasophthalmology.net/photo.jsf?node=369&locale=en
Luviano, D. Anterior Uveitis with Hypopyon HLA 27 Ankylosing Spondylitis. Retrieved from https://www.atlasophthalmology.net/photo.jsf?node=7938&locale=en
Vislisel, J. Keratic precipitates (KP) in juvenile idiopathic arthritis (JIA). 2015. Retrieved from https://webeye.ophth.uiowa.edu/eyeforum/atlas/pages/KP-Keratic-precipitates-in-JIA/index.htm
Iritis. 2007. Retrieved from https://www.flickr.com/photos/amaz0n/508311190
Doan, A. Pars planitis. 2008. Retrieved from https://webeye.ophth.uiowa.edu/eyeforum/atlas/pages/pars-planitis.html
Chan, C. Multiple evanescent white dot syndrome (MEWDS). 2015. Retrieved from https://webeye.ophth.uiowa.edu/eyeforum/atlas/pages/MEWDS/index.htm
Michelson, G. Varicella Zoster Virus – Acute Retinal Necrosis (ARN) in an HIV-infected Patient (OS, Colour Image). Retrieved from https://www.atlasophthalmology.net/photo.jsf?node=9145&locale=en
Venckus, T and Chin, E. Cytomegalovirus (CMV) Retinitis. 2014. Retrieved from https://webeye.ophth.uiowa.edu/eyeforum/atlas/pages/CMV-Retinitis/index.htm
Michelson, G. Endophthalmitis, Acute, Purulent Hypopyon. Retrieved from https://www.atlasophthalmology.net/photo.jsf?node=468&locale=en